As you know from the "About" section of the site, Emma is a mixture of Erin and Shawna. When we searched for help to write a bio (using WikiHow, naturally) we followed the directions given: Less than 250 words, written in the third person and staying away from a resume-like/chronology listing of accomplishments. We managed to stick to all of the rules, but knew that we'd circle back around and share more about Emma in a future post. During a recent work session, we quickly made a list of 10 things that we (Erin and Shawna dba Emma) are all about. After reading this you will see that we are not a "mommy blog" but really a blog for women who may or may not be moms, who are like us; hence the name "moms like us."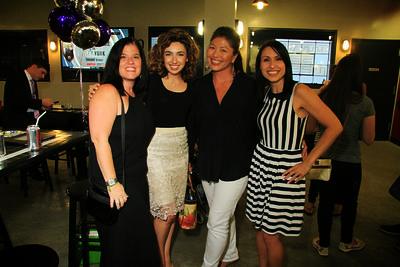 Here it goes.
We love being in the know. We want to know what new restaurants are opening up, what the fashion trends are and what the next "big thing" is.
We are both rule followers, Type-A personalitied, strong-willed and opinionated. Some could accuse us of thinking we are always right.
We like quality…not to be confused with outrageously priced.
Our opinions are our own and we can't be "bought." We are honest to a fault and will not suddenly like something because it's free. We often say, "If it's free, it's not for me."
We are both very systematic, agree on doing things according to a plan…bordering on OCD at times. Travel itineraries are usually very detailed, flights are confirmed and reconfirmed and we find safety and comfort in having things under control.
We love to socialize! We love expanding our social circles, meeting new people and networking. We enjoy dinner parties with other couples, getting together with a group of friends and basically any/all events and gatherings, attending either as a hostess or as a guest.
We value travel and experience. Nothing beats a luxury hotel and great service while away from home! Experiences are not just reserved for vacations. We have even created a tab called Emma Experiences so we can share such experiences.
We love shopping for just about anything: clothes, shoes, accessories, gifts and more! Along those lines, we love being great gift givers…finding that perfect "special something" for any occasion.
We have the same sense of humor. Neither of us appreciate slapstick, self-deprecating (or worst of all, bathroom) humor. We are women in our 40s who prefer highbrow/witty humor and can enjoy just the right amount of sarcasm, when appropriate.
We are both Sagittarians, which can be defined with 3 F's. Funny, focused and fierce.
What we are NOT:
Great in the kitchen. Good, but not good enough that you'll see us sharing recipes or uploading pics of our culinary creations. We enjoy a great meal, one that is usually found outside of the house!
Crafty or creative in a "get your hands dirty" kind of way. Do not expect to see articles about the coffee table that we made after searching on Pinterest for ideas.
Frugal. Sorry, but it has to be said. We will pay for what we want. If we want to go to a show, we will pay the extra price for great seats. Similarly, the car rental upgrade and the hotel room upgrade to go with it. Our husbands would probably prefer that we were a little more frugal but some things are not paying the extra money for. At the same time, we like a great sale or bargain! We will share "sales" and an occasional coupon here and there. A designer bag on Gilt is a score, as is a friends and family sale at one of our favorite stores.
PS- We have only known each other for about 365 days– Yes, around this time last year we first met and here we are, one year later as co-authors and co-creators of Emma Westchester. We hope you will share our new venture with "moms like us" because we think that "moms like us" and we would love to get to know more of "us" that live, work and play in Westchester and beyond.