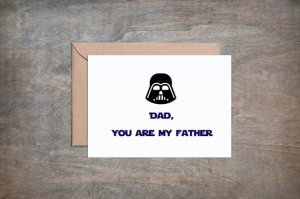 Father's Day Gift Ideas
As I was putting my son James to bed last night, he asked me, "Mommy….what's the next holiday?"
"The next holiday is Father's Day,"  I said.
Isn't that how it goes??   Not a day to recover from one long weekend before thinking about what's next.   This inspired me to write this post today on Father's Day gift ideas, a little earlier than I had planned.    I spent an entire week on Mother's Day last month, but I'm going to make this one long post on my 10 gift suggestions for dads.   Not a lot of pics, just a list and links to some great things for the dads.   Some are things I have bought for my husband, others I bought (or will buy) for my own dad and thrown in are things that have come across my email, things I have found online or in catalogs over the last month or so.
So here it goes.  I am doing this without any notes written down.  I hope I can make it to ten!
1.   Jeans.    I have had the best luck with mens jeans at Men's Wearhouse on Central Avenue in the Scarsdale/Greenburgh area.  Today I realized that I missed the 2 for $100 designer jean sale, but they always have great sales.   I think now they are regular priced and the second pair is half off.   Still a good price for the brands they carry.  The jeans are cool enough for modern dads without looking like your 40 year old husband is headed to a club. Or worse, looking like the male equivalent of "mom jeans."  Jeans, and sneakers, can totally make or break your husband.   My husband loves the slim Lucky Brand jeans and they actually have the 36 inseam in stock for tall men.   Most stores have X32 and X34 in the store but for the tallest men who need the 36 inch length, Men's Wearhouse has them.  Actually, their whole big/tall section is great.  My husband is 6'5″ and it's hard to find him clothes in the normal stores.   The true Big and Tall stores assume he is big AND tall….When really, he is just tall.   34×36 is always in stock and the sales people are helpful without being annoying.
2.  Steak Dinner (or Staycation) at The Time Nyack Hotel.    I visited last week and loved it.  I plan on taking my husband for dinner one evening when the weather looks nice.  Check out the menu below and/or my review of the visit and tour from last week.   Sunday Jazz Brunch will start soon!   Waiting on an exact date for that.
http://media.thetimehotels.com/d/nyack/media/Hotel_Time_Menu.pdf
http://www.emmawestchester.com/the-time-nyack-hotel-truly-an-experience/    
3.  Food.   Face it.  Guys like weird food.  I call it weird because I am a plain Jane.  My husband would love Mantry items.  Finally a cool subscription box for guys!   They have sauces, spices, snacks and more.  The bonus:  Mantry donates 1% of sales to City Harvest, helping rescue over 20 tons of food and redistributing it to families in need of good, fresh food.   I wish it was more than 1% but it's better than other companies, I suppose.    http://mantry.com/
4.  Anything from The Grommet.   Really, anything.   It's gadgets galore and you go through the website wondering if these things are even real.  Check it out and see for yourself.   There is something for everyone!   https://www.thegrommet.com/ 
5.  What I Love About Dad Book.  I bought this book and let my daughter write in the pages, answering the prompts about what she loves about her dad.   It's nice to have the kids handwriting, their words and their spelling.   I picked it up at The Paper Source at the last minute a couple of years ago and it's one of those gifts my husband treasures.  It's really from her heart.   Sentences to fill in such as:  I love when you ___________ and The best thing we do together is ______________.   The best $10 you will ever spend!   When I go into my husband's desk drawer looking for batteries or a screwdriver, I usually see this placed near his special items.   And she's only 10.  Imagine how he will feel about it when she's older.
  http://www.papersource.com/item/What-I-Love-About-Dad/3303_035/825703500714.html
6.   Driving Experiences.    Found often on Groupon and discount sites, your husband can drive a Ferrari or Lamborghini 5-10 laps in a parking lot.   For most husbands, that is cool and all but you can rent a car for an entire day on Imagine Lifestyles.   Only in certain cities, luckily, NYC is one of them.   For the guy that can't just ride for 10 laps and call it a day, you can rent an entire day.
 http://www.imaginelifestyles.com/new-york-ny-luxury-car-rentals
7.  A waterproof bluetooth speaker for the pool.  Can be controlled with your smartphone. It also makes a nice light show in the pool.   So there's a robot to clean the pool and now this so you can have your music too.   Someone reading this will buy this– I am certain.    http://www.derbyduckfun.com/#!bluetooth-speaker/is5kk 
8.  UV Clothing.   Dads expect lots of shirts and ties and they are always a safe bet for the grandfathers and father in laws.   These are great for summer, can be worn immediately and protect the skin from the dangers of the sun.  They are not just swim shirts– They have polos, golf shirts, hoodies and jackets– even shorts.
UV Skins website:  http://www.uvskinz.com/   and all the stuff just for Men:  http://www.uvskinz.com/Swimwear-Shirts-Shorts-Men-s/1821.htm 
9.  Personalized Items from Zazzle.  They are offering 30% off right now, until Friday.   15% off sitewide and 30% off Father's Day Gift items.   Last year I got my husband some funny tees…. His favorite was the iDad tee, play on words for iPad.   I know, geek humor.  There's literally something for every dad– The beer drinking dad, the golf dad, the superheroes loving dad and more.  I actually loved their personalized (photo) ties and think they make a nice keepsake.    http://www.zazzle.com/fathers+day+gifts   or visit   www.zazzle.com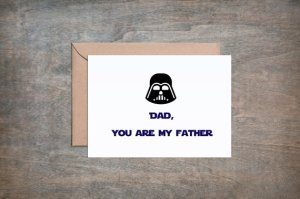 10. Last but not least, cards.  I found this seller on Etsy via another source, possibly Time Out New York.  It's called Crimson and Clover Gift, based in Brooklyn but don't let the innocent name fool you.   Many of the cards are suggestive, inappropriate and rather raunchy.   I found a clean one, but if I was looking for a risque one, I'd have had a number of choices!    Here's the link to their Etsy Store.  Don't judge!
 https://www.etsy.com/shop/CrimsonandCloverGift?ref=l2-shop-info-name
My son and my husband are both Star Wars obsessed recently.   Thought this was cute for him to give him.
And because I always sneak one extra in….. I just bought matching monogrammed Polo shirts for James and little James.   I always have luck with matching items for them on their site.   http://www.ralphlauren.com/shop/index.jsp?categoryId=81751386&ab=global_personalization