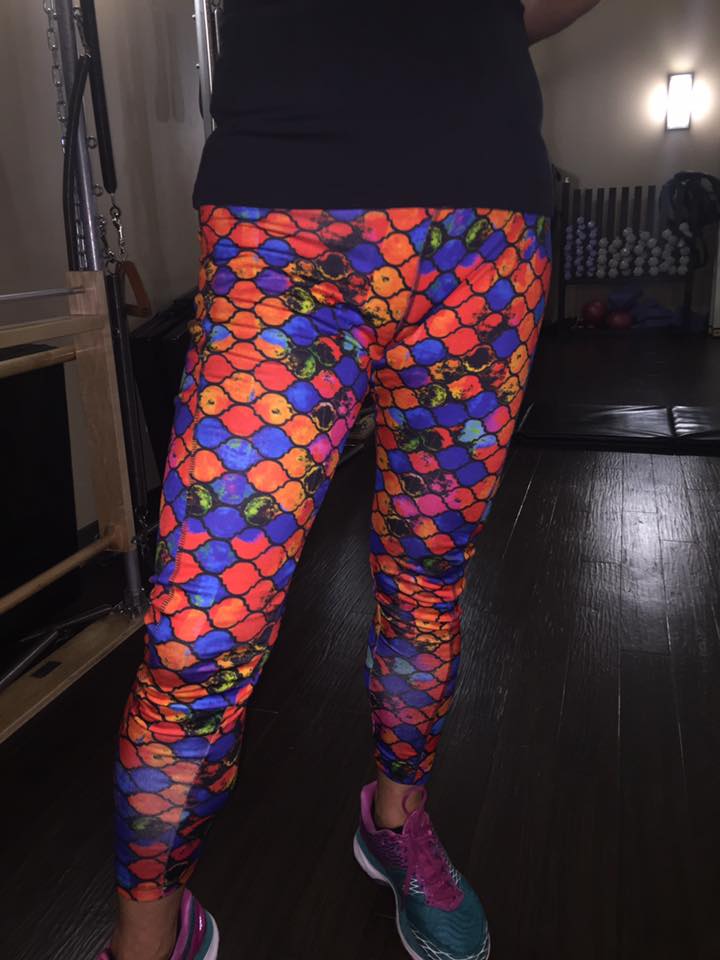 LuLaRoe Leggings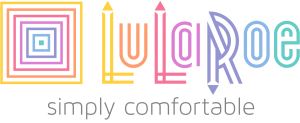 I didn't want to like LuLaRoe leggings.   I first saw them over the summer when a Facebook friend hosted an online Pop Up Party one night from 8-9pm, but curiosity got to me and I had to see what they were all about. Lots of big prints, polka dots, each one louder than the next. It was sort of like walking through JoAnn's fabric store and thinking, ugh, at each roll of fabric. Who wears this?? But, I made my obligatory purchase and ordered a pair in the most tolerable pattern I could find. They're just OK.  They were $25 or so and if I wear them a few times, it works out.  If I had a pic, I would post, but I never took one.
They are super soft and stretchy.  Everyone who wears them swears by them. Truly, it's what we are all looking for and wearing black yoga pants has become a joke!  When buying, OS means one size fits all from size 00 to size 12.  Which means, my 10 year old and I wear the same size in them.   The next size is TC, which means Tall and Curvy, sizes 12-24.  Quite a range.  There's "tween" too which my daughter should be wearing at 10 years old and under 100 pounds, but she likes the OS patterns more.  Obviously.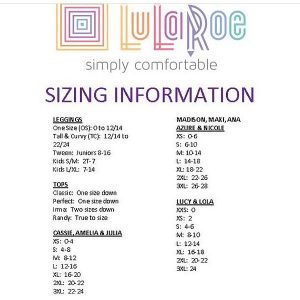 Fast forward….November/December 2016 and they've really grabbed my attention.  Way nicer prints than I had seen months ago and like a bridal gown, you can't really see if you like it and can't truly appreciate it until you put it on. With black boots and an oversized black sweater, all that's peeking out is a little color. So many of us dress in black, black, grey and more black.   A pop of color is not the worst thing.  So I bought my first pair that I actually liked.  I loved this Moroccan pattern and thought they'd go great with a navy wrap sweater and tan boots.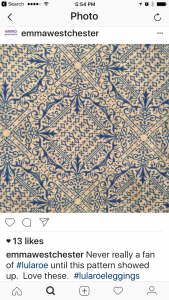 This past week I walked into my Monday morning pilates class and my instructor (and friend of 15+ years) had them on.  I said, "Mary!  Are those LuLaRoe??"   I wasn't 100% sure but I usually know where things come from when I see them on. They weren't her usual Athleta leggings.  They were awesome.  I looked closely and noticed they were shinier than my LuLaRoe leggings and she said, "Yes!  They make an exercise line."   I had not seen these before but I am now on a mission to get the same exact ones!    On Friday morning, she had a different pair on.   Pictured below are Mary's exercise/running leggings.  Not quite compression leggings, but thicker and more appropriate for working out in.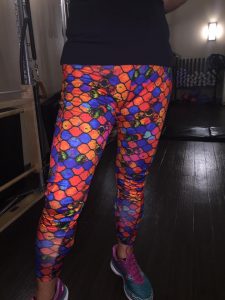 And that's just the leggings.   There's an entire line of items, from dresses to maxi shirts to tunics, vests and more.   Those run on different sizing charts, but it seems each item has a fit and a rule.  (If you're buying the "Irma" you size down, things like that.)  I don't know a fraction of what the consultants know. I bought this cute outfit for my sister for the holidays.  An Irma (she's a M, but bought her a S) and a pair of OS ornament leggings.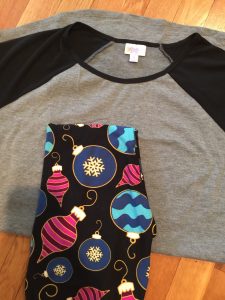 LuLaRoe leggings can be found on FB Page/Groups and I have a few local women that are selling them via Pop Up/Online Parties.  You simply type "sold" and pay by Google Invoice and they're shipped to you.  In my case, they are delivered to my front door.   Kim is local and she's hosting pop ups weekly.  Nicole is another consultant, who has different merchandise and will upload lots of albums when she gets her next shipment on or around 12/17. For some reason, everyone has different items in stock so it pays to shop around and see who has what!
Kim Giannelli is based in Bronxville and Nicole Kohloff is based in Greenwich.  Both of them will ship to you. You can find them on Facebook and you will see for yourself that what one has, the other might not.  You might get your tweens or OS from Kim and your exercise ones from Nicole. Join both groups and see what you like.
You can find Kim on FB:   https://www.facebook.com/groups/fashionrescuelularoe/
You can find Nicole on FB:  https://www.facebook.com/groups/lularoenicolekohloff/ 
When you think they aren't for you, imagine them with your favorite tops and boots.   Happy Shopping!