Christmas Cheer Cocktail
Craft Mixologist – Juan Meyer, was recently voted the #1 bartender at this year's 2016 Greenwich Food & Wine Festival and is a member of the Z Hospitality Group that recently opened Mediterraneo in White Plains and is sharing his special Christmas Cheer Cocktail with Emma Westchester readers.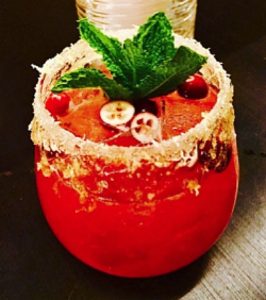 Ingredients:
2 oz. Grey Goose Pear Vodka
1/8 oz. Orange Blossom Water
4 oz. Sparkling Wine
1 oz. Cranberry Syrup
0.5 oz. Pavan Orange Liqueur
1 5oz. Lemon Juice
4 Fresh Cranberries
3 Large Mint Leaves
1 Tsp. Fresh Ginger
2 Inch Lemon Rind
Method:  Muddle cranberries, mint, lemon rind and ginger with cranberry syrup in a shaker until well combined.
Combine the rest of the ingredients, except for the sparkling wine. Give a firm shake and strain into a glass with the honey and lemon & nutmeg salted rim, top with fresh ice, sparkling wine and garnish with mint sprigs and fresh cranberries.
Garnish: Lemon & Nutmeg Salt: Zest of 3 lemons, half of a nutmeg finely grated and ½ cup of salt.
Combine all ingredients and shake well to combine and store in a cool, dry place until needed.
Dip the glass rim in honey and then in the lemon & nutmeg salt.
Cranberry Syrup Recipe:
1 Bag of Frozen Cranberries
1 Cup of Super Tuscan Red Wine
1 Cup of Orange Juice
2 Cups of Sugar
2 Tbls of Cinnamon
1 Tbls of Allspice
Method:  Bring all ingredients to a boil, keep stirring until you hear the cranberries start to pop, transfer to blender and blend until smooth. While hot, strain through fine sieve to strain out all seeds and skins, save the purée for other uses like a dessert topping. Refrigerate the syrup and purée until needed. Cranberries have a natural pectin so when they cool it will thicken.