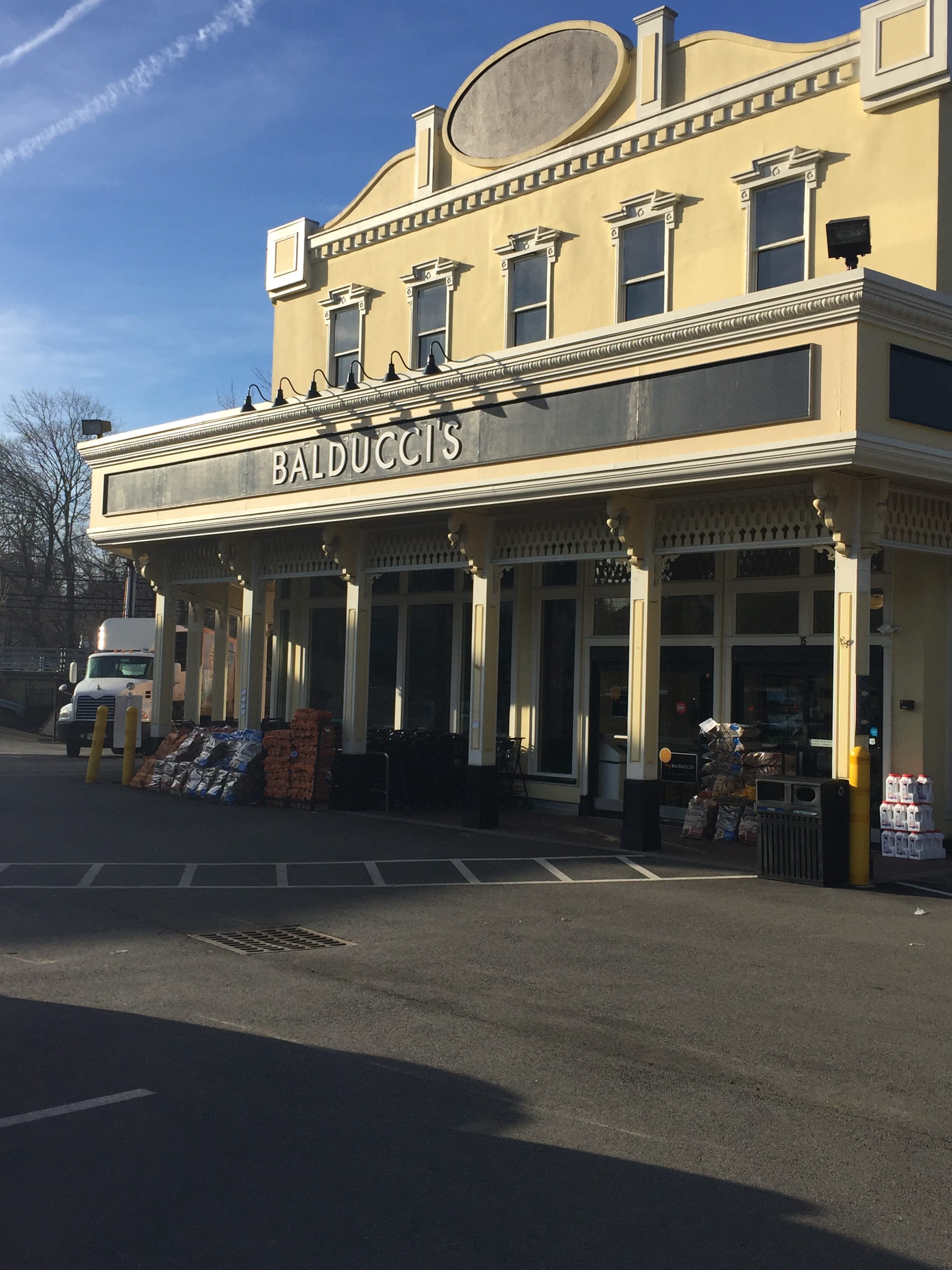 Balducci's in Scarsdale; Rye Brook Next
My husband is a very modern, forward-thinking guy.  If I had to pick one way that he's traditional (or let's say old-school) it would be in his appetite. He likes a nice dinner when he comes home.  Breakfast is usually on the go each morning after his 7 am workout and his commute to the city.  Lunch is wherever he is during his work day. So dinner is his only sit-down meal of the day.  Not to say that I slave over a hot stove (I don't) but I try to make him meals that I know he will enjoy and appreciate.  When there are weekends like this one coming up, where I have overscheduled myself, I find myself going to Balducci's for some "cheat meals" for when I'm gone.
My 10 year old is dancing tomorrow at Lincoln Center which has turned into an all day affair from drop off, to dress rehearsal, a lunch break and then a 2pm performance.   Sunday is a small family get together during the day and then Monday, I'm organizing an outing for 120+ Girl Scouts. I want to know that when I am in and out of the house all weekend, that there's plenty of things for him to snack on.  My son….he's fine; yogurt and cereal, a turkey sandwich, some goldfish- standard 6 year old food will do.   So today after running some errands, I made a stop to Balducci's and got some essentials for the weekend.
At the last minute, I made myself a tea to-go and picked up a small thank you gift for the dance teacher, saving me a trip to another store afterwards.  A beautiful chocolate covered pretzel platter, complete with Caspari napkins and a Papyrus card!   Only the best, down to the paper goods!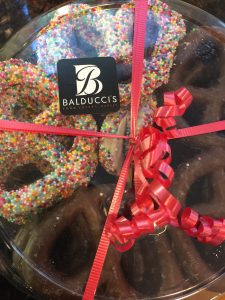 At Balducci's Food Lover's Market, taste comes first with hand-selected produce, prime cut meats, fish flown in fresh from the wharves, restaurant-quality Chef Prepared foods and exceptional imported cheeses and patisserie treats. What started as a produce stand run by "Pop" Balducci, has now become a food powerhouse, with stores located in Maryland, Virginia, New York and Connecticut.
Balducci's is more than a quality market, it is a destination for the food lover, the adventuresome pleasure-seeker who knows that eating is more than just a part of living life – it's part of enjoying life.  Below are a few of our exceptional services.
Catering: We make our restaurant-caliber meals available for catering. Balducci's in-store chefs have crafted a menu of fabulous foods including everything from starters, sides and entrees to baked goods and custom dinners. Additionally, our catering team offers party planning capabilities perfect for any event or occasion. Whether you have business lunches or lavish receptions, our consultants can assist you in choosing impeccable offerings for your next soiree.
Team of Experts: The heart of our gourmet markets is our team of chefs, cheese professionals, butchers, fishmongers, pastry chefs and bakers. We have an Executive Chef, butcher and specialty food experts in each of our locations who assist customers with their selections, from hand-cut cheeses and quality meats to fresh seafood and delectable desserts.
Gift Baskets: For all of life's special occasions, celebrate with great food. Make a memorable impact on friends, family, or colleagues with a variety of traditional and gourmet treats delightfully packaged in one of Balducci's Gift Baskets.
Balducci's Chef Prepared Items
Balducci's specializes in healthy and indulgent Chef Prepared entrees and side dishes that will satisfy everyone in the family. Stop in, grab a side and save time in the kitchen!
A seasonal highlight includes our new Chef Prepared grain and noodle bowls that are deliciously wholesome. Enjoy the taste of vegetable noodles, ramen or quinoa mixed with a variety of fresh toppings. Packed with protein and filled with fiber, you can choose your favorite combination of meats, seafood or tofu for a filling, grab-and-go meal!
New Rye Brook Location 
Balducci's Food Lover's Market is excited to share its love of food with Rye Brook, NY at its newest store location at the Rye Ridge Shopping Center.  The grand opening celebration will take place on Friday, January 27th and will launch with a commemorative bread cutting ceremony, in-store tastings, chef demonstrations, prizes, and advice from a nutritionist with the festivities continuing throughout the weekend.
And for the foodies, who really like recipes to follow….Balducci's is sharing one of their favorites with us.  It meets the 10 ingredients and under rule that I like to follow so I decidd to post it and I might try it this week.   I suppose the sauce could go with any pasta, for those that don't like ravioli.
BALDUCCI'S GLUTEN FREE FOUR CHEESE RAVIOLI SERVED WITH BASIL CREAM SAUCE
Serves: 2
Ingredients:
One 9 oz package Balducci's chilled Gluten Free Four Cheese Ravioli
2 tbls butter
1/4 cup chopped pecans
1/2 cup finely chopped shallots
3 tbls chopped fresh basil
3/4 cup good quality dry white wine
1 cup heavy cream
Parmesan cheese shavings
Directions:
Cook ravioli in large pot of boiling salted water until just tender but still firm to bite, about 8 minutes. Drain well. Meanwhile, melt butter in heavy medium skillet over medium heat. Add pecans and stir until slightly darker and fragrant, about 3 minutes. Using slotted spoon, transfer pecans to small bowl. Add shallots and basil to same skillet. Sauté until fragrant, about 30 seconds. Add wine and cream. Increase heat and boil until sauce is reduced to generous 3/4 cup, about 5 minutes.
Add ravioli to sauce; toss. Season with salt and pepper. Divide between bowls. Sprinkle with pecans and Parmesan.