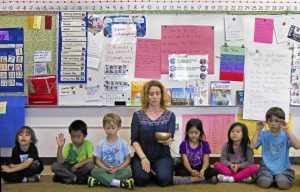 February 19, 2017
In
Play
Mindfulness Matters Training Class for Parents
I've never been the mom to think that anything worthwhile should come just from the school.  Home is the first school and serves as the most influential place where kids learn.  Formal education is only a piece of the puzzle and anything that's worth doing should come from home first, school second.
When I saw that this class was being offered for teachers, I thought, "Who thinks that teachers should bare this responsibility?"  In this educational climate (politics aside) parents like to have some say in what programs are offered in schools.  The reality is that teachers are burdened with more and more demands, high stakes standardized testing, a new/changing evaluation formula, tying students test scores to teacher performance and more. As a parent, I trust that my school district implements what helps children and if I feel otherwise, I seek it out on my own.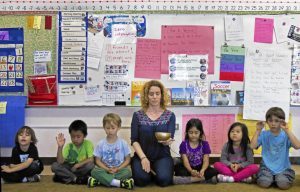 I called Yoga Haven last week to inquire about this workshop and in fact, it is given for teachers who are looking to incorporate this practice into their classrooms.  I applaud any teacher who gives their Friday, Saturday and Sunday (12 hours in total) to take this class for the benefit of their students.  In my teacher days, I'd have done the same.  However, I do believe that parents should be proactive in their kids overall wellness and mental health so I asked if this class would be appropriate for parents to take as well.  I'm sharing the link and the breakdown of all 3 days below.   I hope some other moms will come out and take this too!    Here's an article that I came across this week on how it works. The research shows that mindfulness reduces student stress and even improves academic outcomes.  https://www.edutopia.org/article/mindfulness-all-the-rage-does-it-work-youki-terada
Yoga Haven is offering 10% off to Emma Westchester Readers (aka #momslikeus) who register for this workshop.   The cost is $295, less $30, so $265 for parents who wish to register.   We will need to get 5, so please email me at emmawestchester@gmail.com if you're interested in joining this group of moms in late April.  With further questions, reach out to Yoga Haven directly by emailing margaret@yogahaven.com
http://www.yogahaven.com/mindfulness-matters-in-schools-teacher-training/
Mindfulness in schools is becoming more and more popular. Because students and educators experience enormous amounts of stress, many schools are embracing Mindfulness practices and curriculums as an antidote to the many competing pressures. Mindfulness gives students and teachers the tools to better understand themselves and their experiences, fosters their overall well-being, and allows a greater capacity for compassion, empathy and resilience.
Yoga Haven's Mindfulness Matters™ in Schools Teacher Training will give you the tools you need to bring these practices to your students, grades pre-K through 12. This 12 hour, weekend program will include a study of the neuroscience of mindfulness, coupled with an exploration and experience of the practice in its many forms.   Together we will build a wonderful toolkit full of knowledge and practices to bring into our lives and back to our schools.
Join us at Yoga Haven's stunning and inviting Scarsdale studio. This premiere studio has created, sustained and supported Mindfulness practices for many years, and proudly brings these practices to our area's educators. Give yourself and your students the gift of training in this haven. Whether you're just beginning or furthering your studies, Yoga Haven's well-equipped studio will be the perfect location for your training.
Mindfulness Matters™ in Schools Teacher Training will include:
The benefits of Mindfulness
The neuroscience of the practice
The negative effects of technology use
Deep experiential practice, including yoga, chair yoga, breath work and meditation
A study of age-appropriate practices that can be brought to your students and practiced in your own day-to-day life
Resources to enhance and deepen your study and practice
Skill building, learning-by-doing and trouble-shooting
Manual
Who is this training for?
The training is for current classroom teachers, school staff and/or administrators, grades Pre-K though 12.  This workshop is also appropriate for parents of school age children who would like to learn more about mindfulness and using these techniques with their children.  The weekend is an opportunity for those interested in beginning or deepening their practice and developing or enhancing their toolkit for bringing Mindfulness to their students.
Weekend Overview:
FRIDAY, APRIL 28, 6-9pm
Opening The Door To Mindfulness
Study the basic neuroscience behind the practice and benefits of Mindfulness.  Learn how we can apply this, together with our students, to manage life's stress and challenges.
SATURDAY, APRIL 29, 1:30-6pm
A Mindful Classroom Begins With A Mindful Teacher
Experience the practice of yoga as moving meditation followed by a sitting meditation.
The Mind/Body Experience In A Technological Age
While Technology can be one of our most critical educational tools, overuse and misuse can have far-reaching effects. Examine the effects of technology's overload on an ancient nervous system and leave with a set of daily practices for both you and your students. 
SUNDAY, APRIL 30, 1:30-6pm
Building A Toolkit
Living with present awareness takes practice.  Bringing it into the classrooms takes courage and skill.  Together, we will build a toolkit to take the practice into our daily lives and into our classrooms, one breath at a time.  Educators will leave with a set of best practices and a readiness to bring the practice from the studio into the classroom.
Program Fee:  $295 (with 5 Emma Westchester readers, $265)
To register, follow the link below or email margaret@yogahaven.com
http://www.yogahaven.com/mindfulness-matters-in-schools-teacher-training/