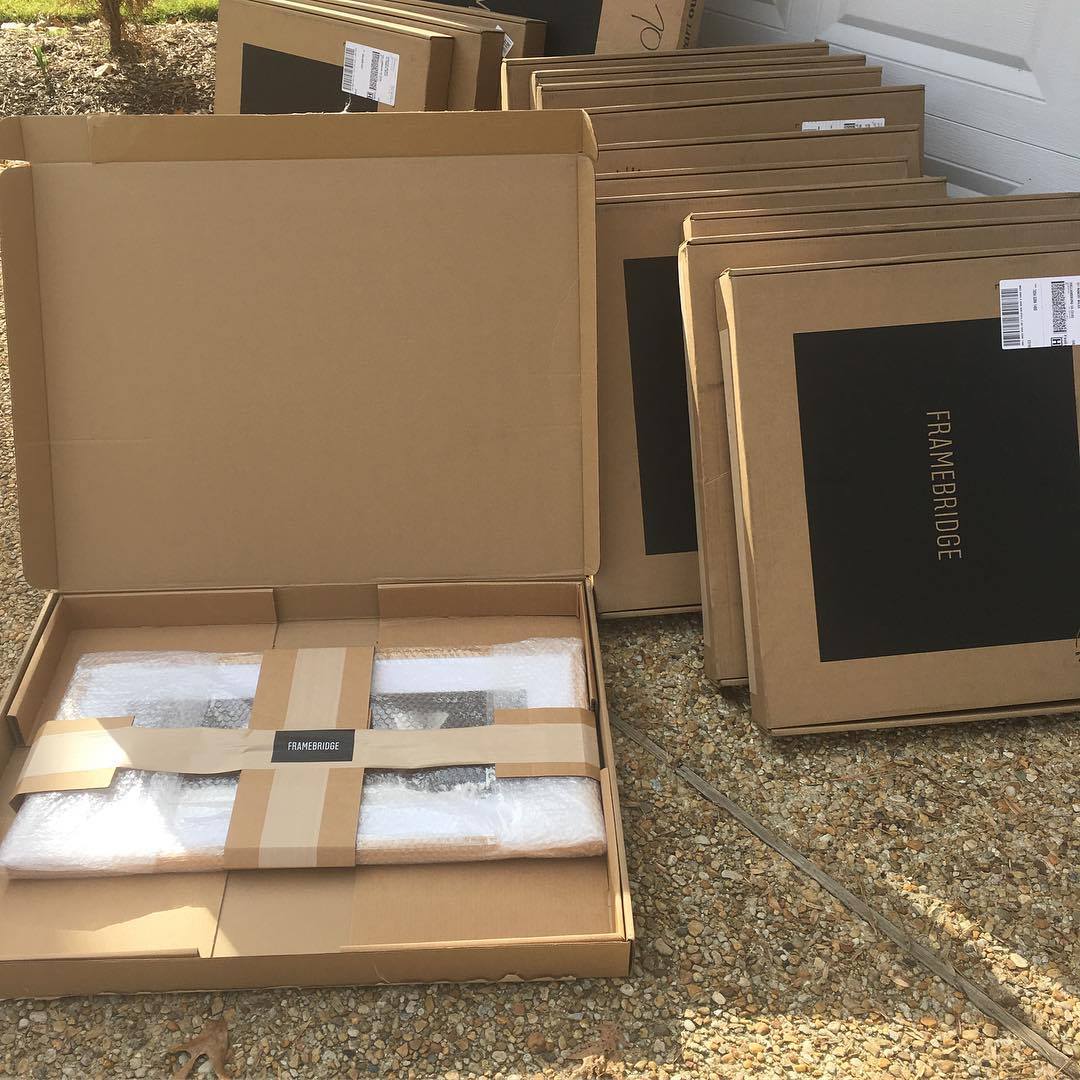 February 27, 2017
In
Shop
Custom Framing is Now Easier, More Accessible and Less Expensive
Twitter has become my new Google.  It used to be that when I needed something, I went to good old Google, searched and found what I needed.  Now I go to Twitter, especially if I am looking for a business.  Twitter is a great way to interact with businesses and they respond to inquiries so quickly.
Years ago, my husband came home with this painting from an art store in Manhattan. He is not typically a gift giver; in fact, most gifts are ones that I buy for myself and let him know about once they are purchased. But this painting was in a store window on Madison Avenue and he went in and bought it for me. I asked why and he said, "Because this is my view every morning when you are getting ready for work." Very sweet and thoughtful and typical of my husband.
As I have been redecorating my house in the past couple of months, I found this painting and remembered that I had intended to have it reframed after the original gold frame broke when we were moving in 2011. It has been on the top shelf of a cabinet ever since. The color scheme in my new family room is "shades of blue" and when I was looking for artwork, I remembered this piece and thought, this would be the perfect time to have it reframed! I went to Twitter…searched "frames" or "framing" and up popped Framebridge; a relatively new business, with a great site, a video on the steps in the process and I was sold.
Framebridge allows you to enter the dimensions of your print, select a frame and they mail you a postage paid box to send it to them, they frame it and return it to you framed, ready for hanging. My print was just under 8×10 and the cost was $79, postage and all included.
When the postage paid box arrived, I was amazed at how easy it was. The same box (or tube) that is sent to you is what it is returned in.   They include the postage-paid label as well as instructions and everything down to the tape needed to reseal the box for shipping. I wrapped up my painting in the plastic, sealed the box and dropped in the UPS box less than a mile from my house. Now…I wait. I dropped the package in the box on Friday afternoon and I anxiously await the returned package to my front door.  🙂
[envira-gallery id="6267″]
If you have a digital photo that you would like to upload from your computer, there is also the option to "upload now" and send the print over that way.  They will print it out and frame it for you.  Does it get any easier??
As I think about the ease of this process, I recall many visits to local framing stores, even Michael's where the frame material, colors and choices all come with a different price tag. The pricing is inflated and you feel like you're saving a bundle with your 40% off framing coupon. Most items that I have had framed over the years have cost between $150-$400 for the framing once I was finished.  I love the upfront pricing.
I am looking forward to the return of my beautiful artwork and displaying it on the shelf in my new family room. The real test is to see how long it takes my husband to notice….
Framebridge, Inc. was founded in 2014 by Susan Tynan, Framebridge aims to take away the cost and hassle of traditional custom framing – the upselling, the overwhelming selection of styles and the multiple trips to the store – by offering a limitedselection of frames, inspired by current interior design trends, online and through an iPhone app. For more information visit www.framebridge.com or follow Framebridge on Facebook, Instagram or Twitter.
This review is based on opinions of the reviewer.  Emma Westchester was provided with framing free of charge by Framebridge in exchange for an honest review.  No other type of compensation was received for this review.