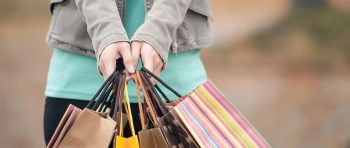 10 Things To Do in April
We don't keep a calendar of events.   We considered it and realized that every other site has one and that's where people go for "things to do."  However, the other sites usually list things for the kids– Not the moms.  So we've decided to publish things for the moms to do, alone or with kids.  Each month, we get so many requests to post events, so here's your "end of the month" blog post: 10 things you might want to do in April.
 Shop the Booked Marketplace Pop-Up on 4/20.  Its being held at LIFE The Place to Be in Ardsley.  Guest will enjoy a unique shopping experience, lite bites, mini-massages and more.   Tickets are $20 per shopper and can be purchased via this link.      https://www.eventbrite.com/o/booked-parties-13201894868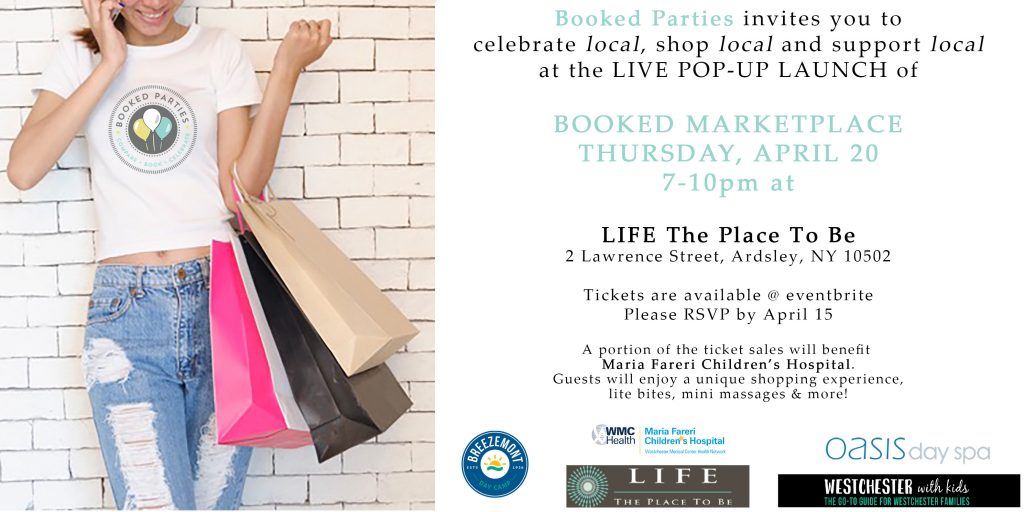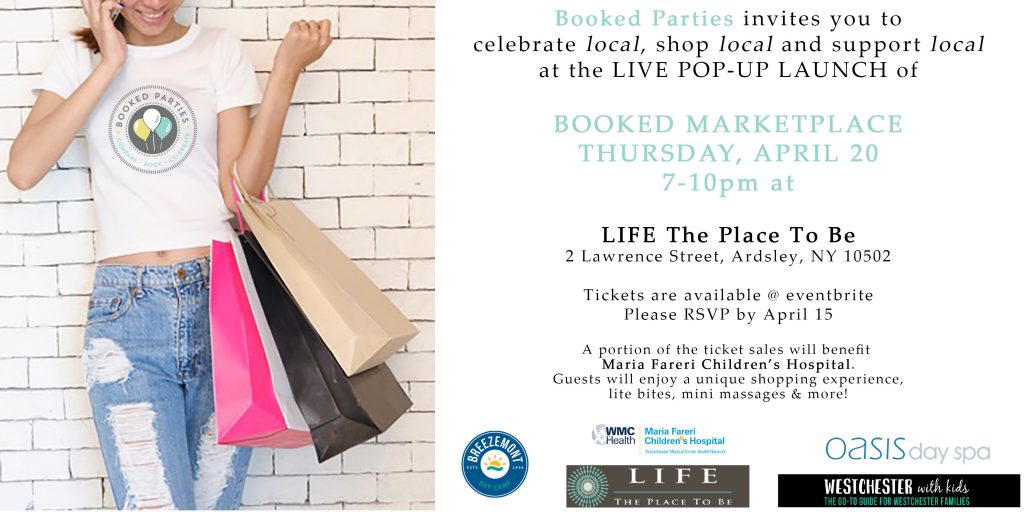 2. Visit the Pleasantville Farmer's Market.
It's now outdoors, on Saturdays starting April 1st from 8:30am to 1pm.
56 vendors will provide the community with the highest quality regionally grown foods including seasonal vegetables (with 3 Certified Organic producers), humanely raised meat, fresh fruit and berries, prepared foods created with ingredients from regional farms, allergen-free baked goods, flowers, wine, and many other offerings.
Responding to shoppers' requests, the Market is adding a hot breakfast and a new lunch option this summer, to complement the popular Aba's Falafel. The Pleasantville Farmers Market attracts an average of over 3000 visitors every Saturday and has become a major regional destination. "Our research shows shoppers come from all over the county for the quality and diversity of vendors present at the Market, as well as the engaging weekly Culinary, Kids and Music programming held throughout the season," says Steven Bates, Executive Director of Market Operations, Foodchester, Inc, the non-profit operator of the Pleasantville Farmers Market. "Another draw is that the Market is in the center of a walkable Village, close to restaurants, shops and the Burns theater."   The location is at Memorial Plaza, right at the Pleasantville Train Station.  For more info, visit pleasantvillefarmersmarket.com
3.  Enjoy a Jazz Brunch!   
Starting Sunday April 2nd at East End in Greenwich and Mediterraneo in Norwalk.  So very NYC, finally out here in the suburbs!  (Remember the GIRLS episode where they went to the jazz brunch?  I think Marnie was singing, if I remember it correctly…. )  After watching LaLa Land last week, I am more interested in checking this out.    Menus and pics below.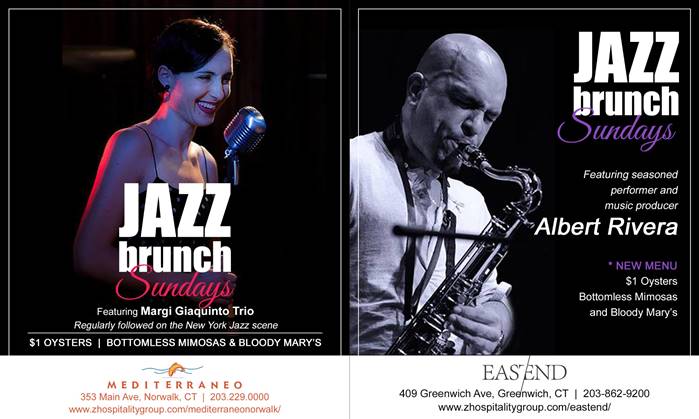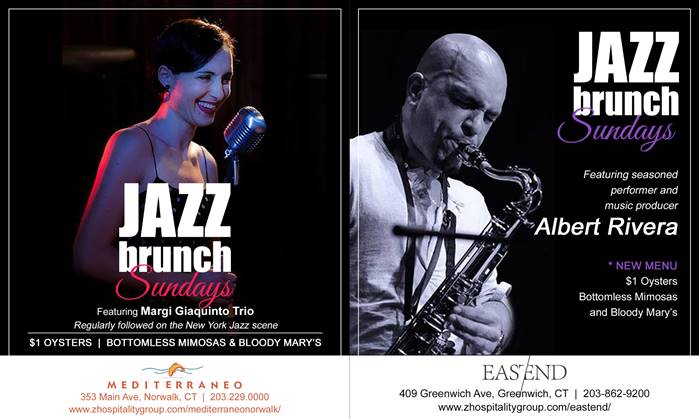 Guests will enjoy bottomless Mimosas, Bloody Mary's and $1 oysters. Live Jazz music will entertain guests every Sunday in April between 12:00-4:00pm. Artists' featured will include up-and-coming New York City Jazz musicians Margi Gianquinto and Albert Rivera. Reservations are suggested especially for large parties of 8 or more. To make reservations you may call: (203) 229-0000     
4.  Take a Calligraphy Class
Classes are on April 8th and May 6th.    I took this class a few weeks ago and loved it.    By no means am I a calligraphy master but my Crayola Markers are being taken a lot more seriously since then.  Register here:    https://www.lillianliming.com/calendar/workshop-brush-calligraphy-koi-april
5.  Mindfulness Workshop at Yoga Haven in Scarsdale- 4/28, 4/29 and 4/30.
6.  Hudson Edit Spring Shopping Event-  4/21 and 4/22.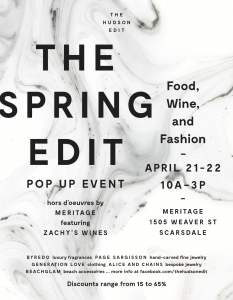 THE HUDSON EDIT offers Westchester a rotating selection of carefully curated pieces by exceptional designers.
Friday, April 21 10a-3p
Saturday, April 22 10a-3p
Celebrate Spring with food, wine, and fashion! Follow The Hudson Edit on Facebook for more information on our upcoming events.
The Hudson Edit is excited to partner with Meritage restaurant for our spring event! Come browse five incredible lines while enjoying selections from Meritage's catering menu.   Free admission.

7.  Westchester Children's Museum Private Playdate- 4/26
Explore the museum and enjoy a special storytime with local author and Scattered Books Bookstore owner, Laura Scott Schaefer. Books will be available for purchase if you'd like to have a copy signed!  Tickets MUST be purchased in advance. $6 per person.  Available by following this link: https://discoverwcm.salsalabs.org/westchesterwithkidsplaydate/index.html
8.  Visit One World Trade.
Beautifully written blog post from fifi + hop.   A great day trip for over the Spring Break.
9.   Meet Bill Nye the Science Guy at Barnes & Noble in Eastchester on 4/6.   Wristbands are for sale at 9am and the event is from 7pm to 9pm.  Wristbands guarantee entry for the evening event.     http://stores.barnesandnoble.com/event/9780061855006-0  
10.  Book your ticket for Soul Camp on June 10th.
Yes, I am aware that this is not really an April event, but I'd buy now so as not to get sold out!   These events are usually on weekends, but for the first time they are on a single day in this area for NY and NJ folks.    A full day of a variety of healthy, wellness, outdoor activities.


For more info, visit https://soul.camp/ or follow Soul Camp on Facebook, https://www.facebook.com/soulcamplove/