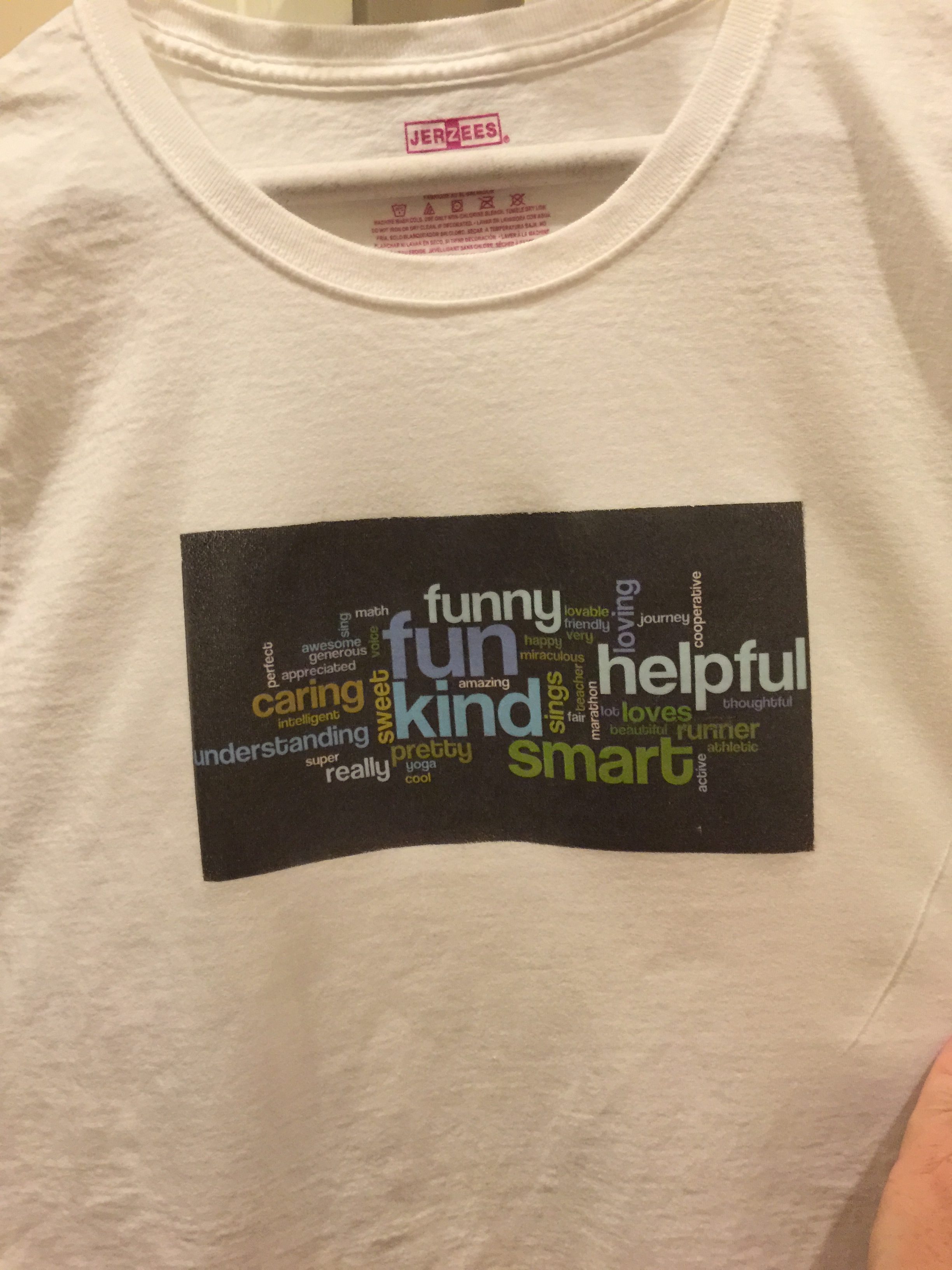 Teacher Appreciation Day Ideas
Teacher Appreciation Day is one of my favorite days of the year.   There's no one I appreciate more than my kids' teachers.  Having spent 11 years in the classroom, I know that teachers do not need this day to feel appreciated, because most feel appreciated every day in the work they do with their kids.  The simple gestures and interactions are the rewards that parents will never even know took place.  But, I like this day because it's an opportunity for kids to see others show their teachers just how much they are respected and it gives teachers a special day for themselves.
This year, it falls on Tuesday, May 9th, during Teacher Appreciation Week, May 8-12.  Some schools choose to observe the week, the day or not at all.   In some places, PTA's will organize breakfast or lunch for their entire staff.   I'm lucky to live in a district where families find it to be a meaningful day.  Over the years, I have seen posts/comments where someone comments that they didn't know this day even existed.  This is why I wanted to get this post out there early, so you can think of fun ways to celebrate the teachers in your kids' lives.
http://www.nationaldaycalendar.com/national-teacher-appreciation-day-tuesday-of-the-first-full-week-in-may/
Over the years, I've come up with different ideas and projects.  Some years, I was the class mom, and chose to organize a group gift from the class.  Our PTA stresses that the gift should be thoughtful and meaningful and the cost should be minimal.   On years that I was not the class mom, I chose to do small things each day during teacher appreciation week, sending in a small, $5 or less item each day of the week….Monday, nice fine tip markers…..Tuesday, post it notes…..Wednesday, a $5 Starbucks gift card…..etc.
Two of my favorite ideas though, were when I involved the class.   When my daughter was in kindergarten, I sent out this email to the parents of her classmates:
Dear Parents,
Next Wednesday, 4/25 is the day that ABC School PTA has decided to celebrate their teachers, by having a Teacher Appreciation Luncheon.  
While the teachers will enjoy this day with their colleagues, we felt that it would be nice to involve the children in this celebration.   Having the children participate and be involved in this day, helps them to understand the meaning of the word "appreciation."   Our children learn this by the example that we, as parents, model for them.
With that said, we are asking all of the children to do the following:
  Select an 8×10 sheet of paper of any type. (Printer or construction paper.  Color of their choice.)

  Using the letter that they are assigned (see below) they will make a block letter on their paper.   The paper will be in the portrait/vertical position.  The block letter will be capitalized and will fill the paper.

  The children will color in their letter or decorate their letter in any way they choose: with stripes, with polka dots, in a solid color, with collaging materials, elbow macaroni, etc.  It is their choice.   

Children will bring this paper/letter to school on Wednesday 4/25 (not in their folder, but loose in their backpack.)  Teachers collect the folders as part of their their morning procedures.   This is a surprise! 

At 11am, upon returning from library the children will get their letters out of their backpack and line up in the following order (see below) and it will spell out the message:  Happy Teacher Appreciation Day.    It will appear bright and colorful and the children will love surprising their teachers!  🙂 
I know….this sounds like a LOT of work but amazing when the kids pulled it off.  I assigned each kid in the class a letter starting with H, then A, then P….and so on.   I arranged for the teacher to let me come in at 11am that day so I could give her the gift from the class.   They pulled it off perfectly.  I'd share the pic of each child holding up their letter, but for privacy reasons, I won't.   The teacher loved it so much that she hung it up in the hallway outside the classroom.
Another year, I sent an email out to the parents asking them to look at the sample Wordle (or word cloud) that my Girl Scouts had made for me.  I asked each parent to simply reply to the email with three words that described their teacher.   I made her a Wordle, framed it and found a printer paper that served as an iron on and ironed it onto a tee shirt for her.    The cute thing about the wordle is that the words that are used most often are larger than the others.  By looking at this Wordle, it shows how many kids called her kind, fun, smart, helpful, etc.    Once finished you can change the font, the color, the size, etc.   I picked colors that I thought she would like.   This one took less time and planning and was managed from my computer.   When they gave her the shirt, I had them sign the back of the shirt with fabric markers.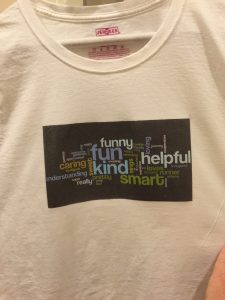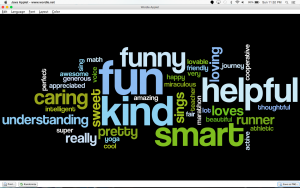 You can follow this link to use
WordItOut
to make a word cloud:
Word cloud made with WordItOut
Other Gift Ideas: