Mamaroneck's Food Truck Makers & Market – April 30th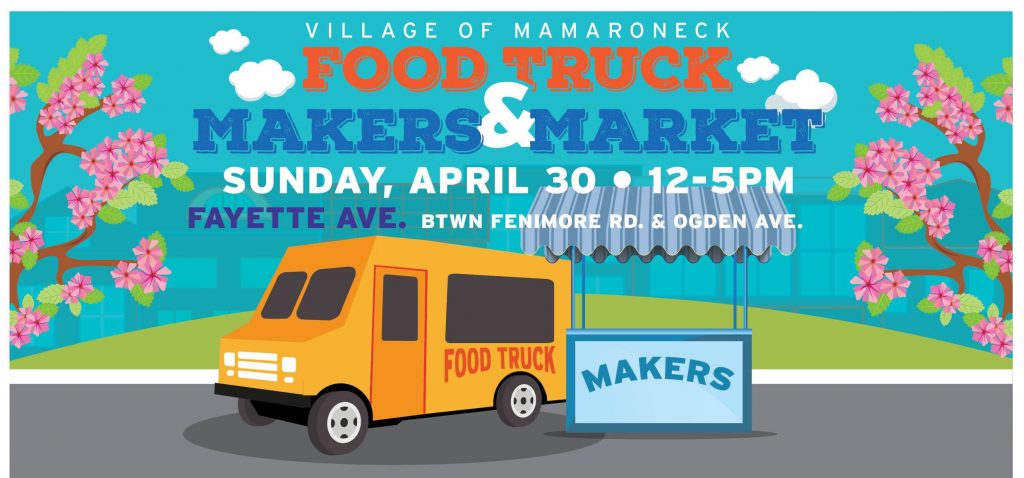 Kicking off Small Business Week, join the Village of Mamaroneck in bringing together an eclectic mix of local food, artists & artisans in the Industrial Area of Mamaroneck, NY with special highlight on the area's small businesses.
EVENT:
Sunday, April 30, 2017
(Rain Date To Be Announced)
Noon – 5PM
Mamaroneck, NY
Location Fayette Avenue between Fenimore Rd & Ogden Ave., near the Mamaroneck MetroNorth Station (Entrance Between Majestic Kitchens & Bath & Vincent Service Station, Inc. (Mamaroneck, NY)
LOCAL BUSINESSES:
The Bott Shoppe – Art Gallery & Gift Store (Mamaroneck, NY)
Chatsworth Antiques & Consignments LLC Lounge (Mamaroneck, NY)
MADE: my art + design experience (Mamaroneck, NY)
Bullseye Glass Resource Center New York (Mamaroneck, NY)
Breadcrumbs Mag (New Rochelle, NY)
Mamaroneck Self Storage (Mamaroneck, NY)
Chocolations (Mamaroneck, NY)
PERFORMANCES BY:
School of Rock Mamaroneck (Mamaroneck, NY)
Artistree Performing Arts (Mamaroneck, NY)
FOOD TRUCKS:
Walter's Hot Dogs (Mamaroneck, NY)
Longford's Own-Made Ice Cream – Rye, NY
Boxcar Cantina – TexMex (Greenwich, CT)
HAPA Food Truck – Asian Fusion / Vegeterian (Stamford, CT)
The Souvlaki Truck – Greek (Yonkers, NY)
Dough Girls – Fire Oven Pizza (Greenwich, CT)
ART ACTIVITIES:
Mesh Print Studio – Mobile Print Station (Mamaroneck/New Rochelle, NY)
A Party With A Plan – Glitter Tattoos & Face Painting (Hartsdale, NY)
Henna Tattoo by Naty (Queens) – Henna art
Yard Games & More!
ARTISTS & ARTISANS:
GK Designs Jewelry – Handstamped Metal & Crystal Crfeations (New Rochelle, NY)
Soapz Unlimited – Handmade Soaps (Yorktown Heights, NY)
Three Peas Jewelry – Upcycled Accessories (White Plains, NY)
Cynthia Wyffels – Handkit & Adorned Accessories (New Rochelle)
Yapa Artisanal Collections, LLC – Charity Collective (White Plains)
Spook Bunny Deliriums – Art Prints (Dobbs Ferry)
Hillary Short Photography (Rye, NY)
Dennis Dempsey Illustration – Paintings & Prints (Mamaroneck/New Rochelle, NY)
Half Pak designs – Bow Ties for Men & Kids (Rye, NY)
Grass & Clovers _ Upcycled Home Goods & Clothing (Hartsdale, NY)
Dennis Cucinella – Handmade wooden bowls and furtniture (Mamaroneck, NY)
Arts ThreeSixty – Laser Etched Products (NYC)
Jewelry from Washingtonville Housing Alliance's Women's Artisan Collective (Mamaroneck, NY)
LOCAL ORGANIZATIONS:
Community Resource Center (Mamaroneck, NY)
LMCTV Public Access Television (Larchmont/Mamaroneck, NY)
Relay for Life of Mamaroneck/Larchmont
American Cancer Society – Relay For Life
Village of Mamaroneck Committee for the Environment
Save the Sound (Mamaroneck, NY)
Eileen Fisher Leadership Institute (Irvington, NY)
YAI/National Institute for People with Disabilities Network (Mamaroneck, NY)
Artisan NR (New Rochelle, NY)
Mamaroneck High School Impressions Magazine
GETTING HERE:
MetroNorth Mamaroneck station, walk, skate, bike.
Directions> https://goo.gl/maps/nQJL7isLdRk
PARKING:
Limited parking. Check signs for EVENT PARKING, street parking also available in the area including at MetroNorth station. Please check the signs to avoid a ticket.
RSVP:
https://www.eventbrite.com/e/mamaroneck-food-truck-makers-market-spring-tickets-32676634694
VENDORS:
Our line up is set but if you want to be a considered a vendor for future events? Submit your info on the vendor form here:
https://goo.gl/forms/AxJRsP2lV49Ap42Q2
WITH ADDITIONAL SUPPORT FROM:
Village of Mamaroneck, New York
— Village of Mamaroneck, New York – Mayor Norman S. Rosenblum News
— Village of Mamaroneck Industrial Area Steering Committee
—Village of Mamaroneck Recreation Department
—Mamaroneck Chamber of Commerce
—Village of Mamaroneck Arts Council
CityBurb Magazine