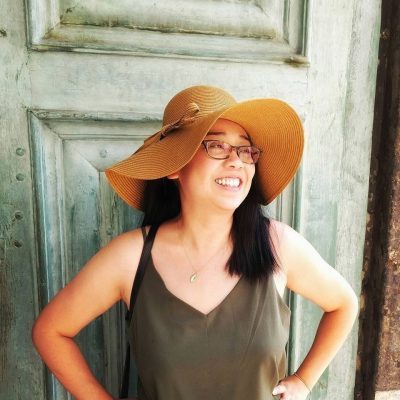 Westchester Woman Wednesday: Meet Lillian Huang
Before this month comes to a close, I realized I must post our Westchester Woman Wednesday.  Where did April go?  Weeks ago, I had lunch with Lillian Huang and decided she'd be our Westchester Woman of this month.  We literally met on Instagram earlier this year because for some reason, I follow calligraphy accounts.  If you don't follow them, you should.  I swear they're therapeutic.   Some of the pics are artsy photos with an inspiring word or phrase above it.   The videos are incredible, where you find yourself watching someone handwrite the letters of the alphabet to a full quote.   I guess because I love language and the physical art of handwriting, these accounts sort of capture both in an artistic way.   Anyway, Lillian is my new favorite Instagrammer and once you follow her account, you'll see why! https://www.instagram.com/lillianliming/ 
Lillian is somewhat new to the area, but has already introduced me to new dining spots in the area.   (She has a background as a food blogger, so I trusted her choices immediately.)  She highly recommended Bibille, a Korean Fusion restaurant in Tarrytown and Cafe Trois in Northvale, NJ (review) which is really a few miles over the Rockland/NJ line.  She also raved about T Swirl Crepe in White Plains; which I learned has many locations in NYC and a menu of both sweet and savory crepes as well as some amazing teas!  (check out this menu)
She's not a shopaholic, but loves to support projects and enterprises that support women.   Certainly not what I had expected in the "shop" category and it's giving me some time to think and reflect on how many people there are out there who work to help others achieve a quality of life, through their passion.
FashionABLE – www.livefashionable.com – They create opportunities for women in developing and at-risk communities and their beautiful products are a result of empowering and teaching the women how to earn a living rather than depending on charity.
Nozomi Project – www.nozomiproject.com – Nozomi (means hope) is a social enterprise bringing sustainable income, community, dignity and hope to the women in Ishinomaki, Japan by training them to craft high-quality jewelry products.  Nozomi women are creating one-of-a-kind pieces of jewelry featuring broken pieces of pottery left in the wake of the tsunami and other up-cycled pottery.
Lillian's idea of fun is exactly what I expected.  She enjoys traveling and visiting new places, one of which is Westchester, which she is new to.  She likes immersing herself in places and seeing how others live, exploring what makes each place unique.  She's someone who really stops to "smell the roses" which I think so many of us don't take time to do.  Many #momslikeus are busy with our work and family responsibilities and we forget to absorb the beautiful things around us.  I guess that's why I enjoy her IG account so much….there's a sense of beauty and calm that I crave.
Check out Lillian's website and course offerings here: https://www.lillianliming.com/