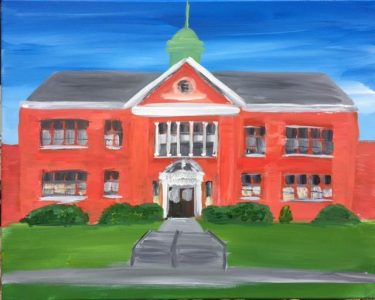 Host an Art Partay
In recent years, I've organized a lot of art parties.  A couple of years ago my daughter decided that she wanted a duct tape themed birthday party. After searching all over Westchester for this kind of party, I hired Gina Zohar Fine Art to come and make duct tape wallets and jewelry with them.  In Girl Scouts, I've worked with a number of artists on drawing/sketching, painting and art appreciation badges.  Teaching is one of the hardest jobs out there, but teaching kids (or adults for that matter) to draw or paint has to be the most challenging task.
A few months ago, I was looking for someone to do a Paint Night Party for my daughter and friends at the end of the school year and thanks to Instagram, I found Carey at Art Partay. Before graduating from our neighborhood elementary school,12 girls and their moms got together to paint a canvas painting of their school.  Carey made up a sample and created another alongside the girls, instructing them every step of the way.   Carey had a wonderful way with the girls and each one was able to complete their own version of the school they've grown up in over the past 4 years.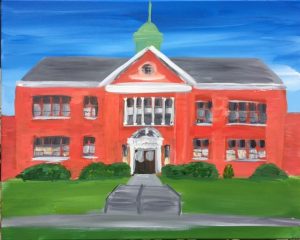 What I liked most about working with Art Partay was that it was customized and we had a choice of locations.  We went with Tequila Sunrise (a Mexican restaurant) for the music, energy and menu.   We selected the day and time that we wanted and most importantly, the painting was our choice.  Carey works out of her locations or will come to your home.
If you're interested in hosting your own art party, you can find these artists/teachers online by following the links below:
https://www.facebook.com/GinaZoharFineArt/
http://www.artpartay.com/Art_Partay/Painting_Parties.html