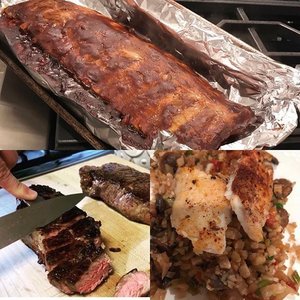 Mark's Quality Meats & Gourmet Seafood
One of the best finds of late is Mark's Quality Meats.   When school begins, I get back to my cooking dinner routine and find myself every September wondering what to make for dinner each night.  It's kind of like starting over, getting everyone back on routine with activities, homework and a sit down dinner.   I was thrilled when a friend recommended Mark to me.   With skepticism, I called and made an appointment for Mark to come to my house and tell me about his services.   I made a few careful selections to start just in case the food was not terrific but once I tried everything, I was amazed at how much I loved each thing.
Mark has a very simple business concept: Restaurant quality food delivered to your home.   And that's exactly what he does.  He delivers to the Hamptons, NYC, Westchester and Fairfield Counties.   When you call to set up your appointment, he will let you know what day he is in your area and if you're not home, everything is left in dry ice for when you return.  It couldn't be easier.
I started with 36 Kobe sliders, 12 filet mignon steaks, a bunch of baby back ribs and a gigantic bag of chicken fingers.    Over the course of a few days, we tried each item and were very happy.   All items are vacuum packed for freshness and delivered frozen with instructions on how to cook.  First thing we tried were the ribs– well only my husband tried them, since no one else eats them.  He said they were perfectly tender and seasoned and actually compared them to the ribs he had at The Taphouse!   Quite a compliment for something that came through the door frozen and cooked at 400 degrees for 40 minutes.  I made homemade mashed potatoes in 30 minutes while they cooked.   Kids and I enjoyed the sliders that night and Mark even supplied mini slider rolls for us!   So that was a win!
The next night was the filet mignon.  Truly amazing.  I have had few steaks in a restaurant that were better.   Yes, they were expensive, the way any filet mignon is, but so worth it.    I cooked 4 of them and have 8 for the next two times I want to serve filet mignon for dinner.   Easy to cook on my stove top grill pan (Im scared to grill) and prepare salad and vegetables while they cooked.  10-12 min on each side and it was perfectly medium-rare.
The next night, my husband and I went out for dinner and left the chicken fingers for the sitter to give the kids with fries.  15-20 minutes at 350 degrees and they were done.   I'd estimate that the bag had 75-80 chicken fingers in it so should last us quite a while.  Fresh white meat, not overly breaded and my daughter said they were better than when we go out to restaurants.  I told her that they are the same as the restaurants– so no need to have UBER Eats deliver them to us when we have a sitter!
Mark has offered to give any Emma Westchester reader a free package of chocolate chip cookie dough with their first order.  Trust me, you will love his food.  I did not even get to his seafood or his catering items this time around but with the holidays coming up, I will be sure to try them out.    A first order, with staple items was a major success and saved me a lot of trips to the supermarket in the past couple of weeks!   I'm including his website, some gifting options and menus below.     He has made me actually enjoy cooking dinner again!
https://marksqualitymeats.com/
https://marksqualitymeats.com/gift-boxes/