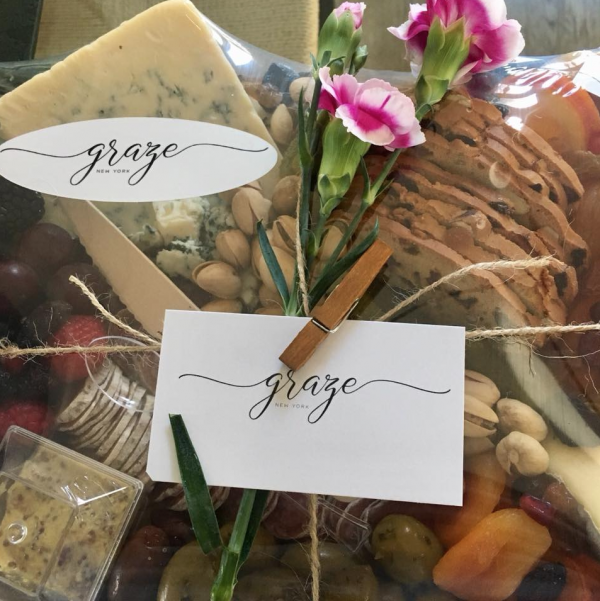 GRAZE NEW YORK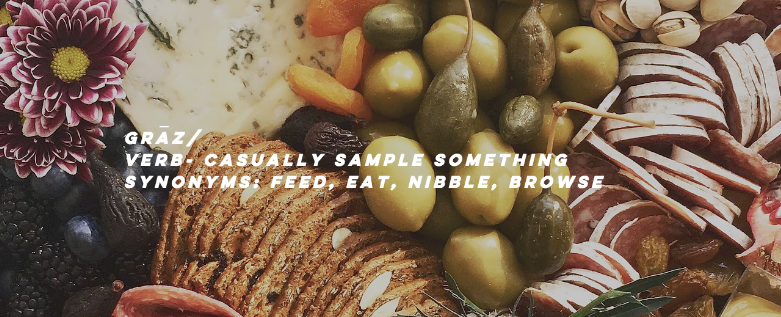 As you know, Shawna and I enjoy hosting and attending parties.   I usually enjoy being the hostess and Shawna's more the "What can I bring?" partygoer.   When we both find something that we love, that suits our very different personality styles, it becomes an Emma Westchester story.  We want you all to know what graze boards are and we think everyone can find a reason to order one.
First and foremost, it's an art form.  All food boards are created by founder (and Westchester mom) Shari Ivler.   Graze boards end up looking like they're fake because they're almost too pretty to eat.   The breakfast board contains fresh fruit, mini croissants, cinnamon rolls, mini muffins, cheese and jam.  There are bread boards, with assorted bread, breadsticks and crackers, topped off with some garnish or a flower for decoration.   The meat and cheese boards contain cured meats and artisanal cheeses, fruit, nuts and crackers.  Crudité boards contain locally sourced vegetables with hummus.  My personal favorite is of course, the dessert board because it's (kind of) guilt-free with some dried fruit, some sliced fresh fruit and a healthy amount of chocolate.   Boards are available in three sizes (small, medium and large) depending on the number of people you're intending to serve.  
So….pricing.  It's always the question people have.  Sure that looks great but how much does it cost?   Well, less than sending a fruit basket or fruit flower arrangement through an online delivery service.  Less than one would spend on a Harry and David gift basket. To me, those food baskets are not really a good value or "sum of its parts." (Paying $59 for 5-6 apples and a box of crackers isn't a good value to me.)  In a way, I feel like Shari is a personal shopper for healthy food items combined with an artist/chef who puts it all together.  Way better than I could ever do and a great value.  To top it off, you get to keep the board, in case you're inspired to create your own board.  Or if you're like me, you'll keep ordering.   Prices begin at $75 per board.  More on pricing here.
Each board is wrapped in cellophane and safely delivered to points in Westchester or NYC. (see below).  Graze boards are ideal for book club gatherings, hostess gifts, neighborhood get togethers or picnics!   Shawna and I decided we'd surprise our kids middle school teachers with them this week for Teacher Appreciation Day.  Sure not to disappoint, give them a try– tell Shari we sent you!    
[envira-gallery id="8223″]
Please note that all boards include nuts.  If there are any allergies, Graze is happy to accommodate.  Graze New York offers Free Pick-Up & Delivery Options:  $10 within 10-miles of 10804; $25 delivery over 10-miles with a minimum order of $125.