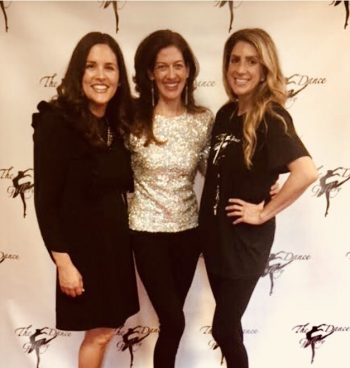 Westchester Woman Wednesday: Meet Shannon, Lori & Christine
I'm thrilled to share this month's choice for Westchester Woman Wednesday.   In fact, I should say "women" because it's a trio of talent that has taken The Dance Gallery in Tuckahoe to a new level.   The Dance Gallery had been previously owned by Stephanie Urbina (since 2012) and it was pretty much a one woman show.  In 2018, Shannon DiNota stepped in as the new owner of The Dance Gallery and helping her with the transition are Lori Mortensen and Christine Magliari.  Each one has their own skill set that they bring to the table, but the commonality is their shared vision for the studio.
Besides already having been instructors at The Dance Gallery, they were also parents (one an aunt) of dancers at the studio.  It was a natural move for the three of them to come together and build upon the things that were already great about where they worked and chose to have their daughters (and nieces) dance.  Each brings a different experience;  Shannon is a lifelong dancer who has studied, performed and taught in cities across the US and London. Lori has a music and theater background and is the business manager for the studio. She brings along her communications background and experience. The office manager is Christine, who wears many hats.  She's an actress, a pilates & yoga instructor, stylist and musical theater instructor.   All three women have ties to the Tuckahoe/Bronxville/Eastchester community and are truly an asset to the young dancers at The Dance Gallery.
Their mission is to offer quality dance instruction by experienced professionals who possess a passion for teaching students of all ages in a disciplined and nurturing environment. The Dance Gallery teaches dance as an art form, emphasizing fundamental technique and diversity of styles including classical ballet, jazz, tap, modern, musical theater and hip-hop.  Since the takeover in early 2018, new programs such as Irish Dance, Bollywood (Indian dance) and Adult Tap Dance classes have been added.
What I love personally is their gentle, yet serious approach. It's age appropriate and allows girls a safe and comfortable dance environment. It's a mixture of traditional and "new" which was evident in the June recital.  Some classic ballet pieces, some modern selections and my favorite, the "Annie Fusion" where the younger girls performed Annie's "It's a Hard Knock Life" the traditional way (imagine buckets and rags) followed by the older girls who performed the modern version of the same song, with choreography and outfits that were a little more mature.  Everyone gets what they need and everyone leaves happy.
THE DANCE GALLERY is located at The Main Street Depot, 25 Main Street, 2nd Floor, Tuckahoe, NY 10707​​
Phone: (914) 255-4092
Email: ​info@thedancegalleryny.com  
Fall 2018 Class Schedule can be found here.
Links to all Bios can be found here.
[envira-gallery id="8567″]