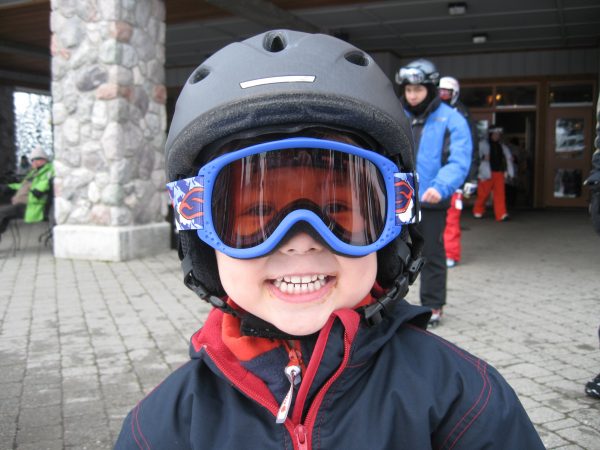 One of my favorite sales of the year: The Pedigree Ski Shop Annual Tent Sale
Labor Day is the unofficial end to our summer as Korben's school is back in session.  There is no "back to school" clothes shopping or a mad rush around town attempting to select school supplies from Target, Staples or any other store when you have a preteen boy.  As long as Korben has sports shorts, t-shirts and a few tennis shoes that fit him he's perfectly content.  The wonderful Value Drug Store in our town knew exactly what my son needed for middle school (didn't even need to have a supplies list); we simply called told them what grade and they pulled everything together.
The first real shopping of the season for our family is not for school but rather for skiing at one of our FAVORITE sales of the year…The Pedigree Ski & Tent Sale.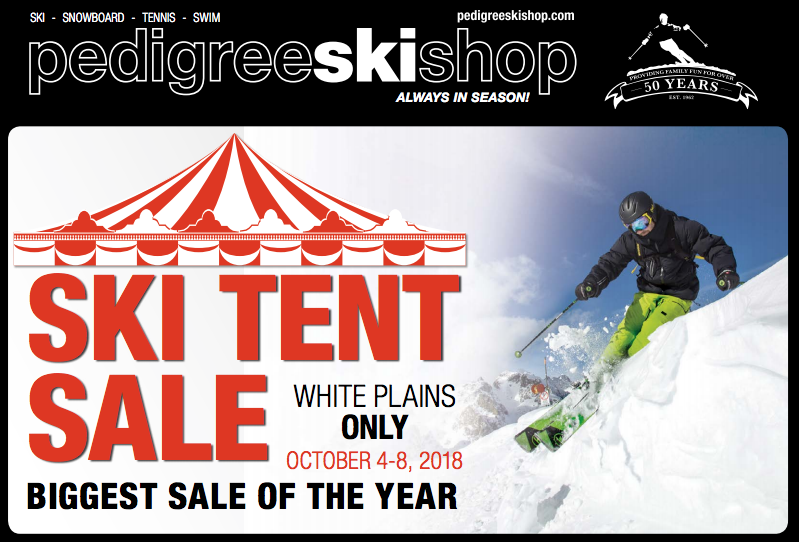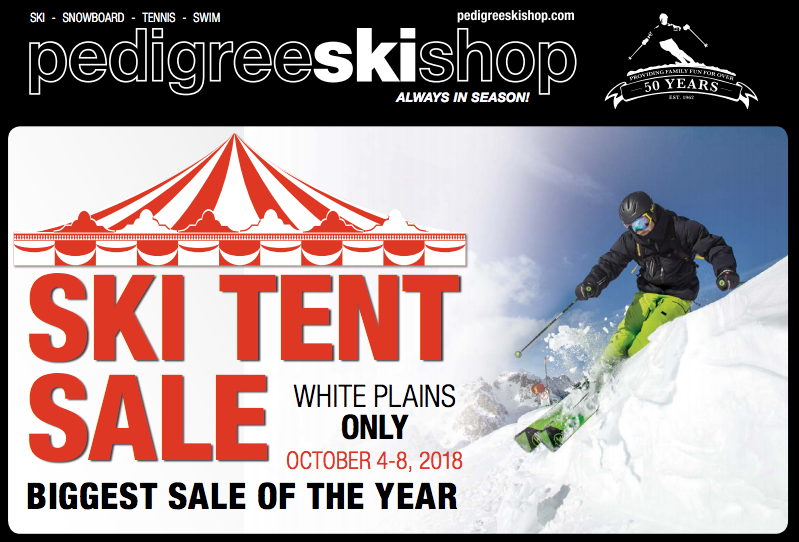 We are an avid ski family.  Frank has been skiing since he was eight and worked as a ski instructor in Europe during his teenage years.  I was a beginner Snow Boarder when I first dated Frank, but converted to skiing within a few years.
[envira-gallery id="8709″]
It was never a question of IF Korben would ski but a matter of WHEN.  I won't lie, I was nervous putting our son on skis at age three – but Frank was ecstatic.
[envira-gallery id="8705″]
One of the best aspects of moving from Manhattan to Westchester was stumbling upon the gem of a store called Pedigree Ski Shop in White Plains.  Pedigree has everything that a beginner to expert skier or boarder would want.  Pedigree employees are all very knowledgeable about their sport; be it tennis in the summer or skiing in the winter.  I have overheard conversations, that prove to me that they staff their store with dedicated sports enthusiasts.  The annual tent sale (this year from October 4-8th) in White Plains is where one can score some amazing bargains for the entire family and should not be missed!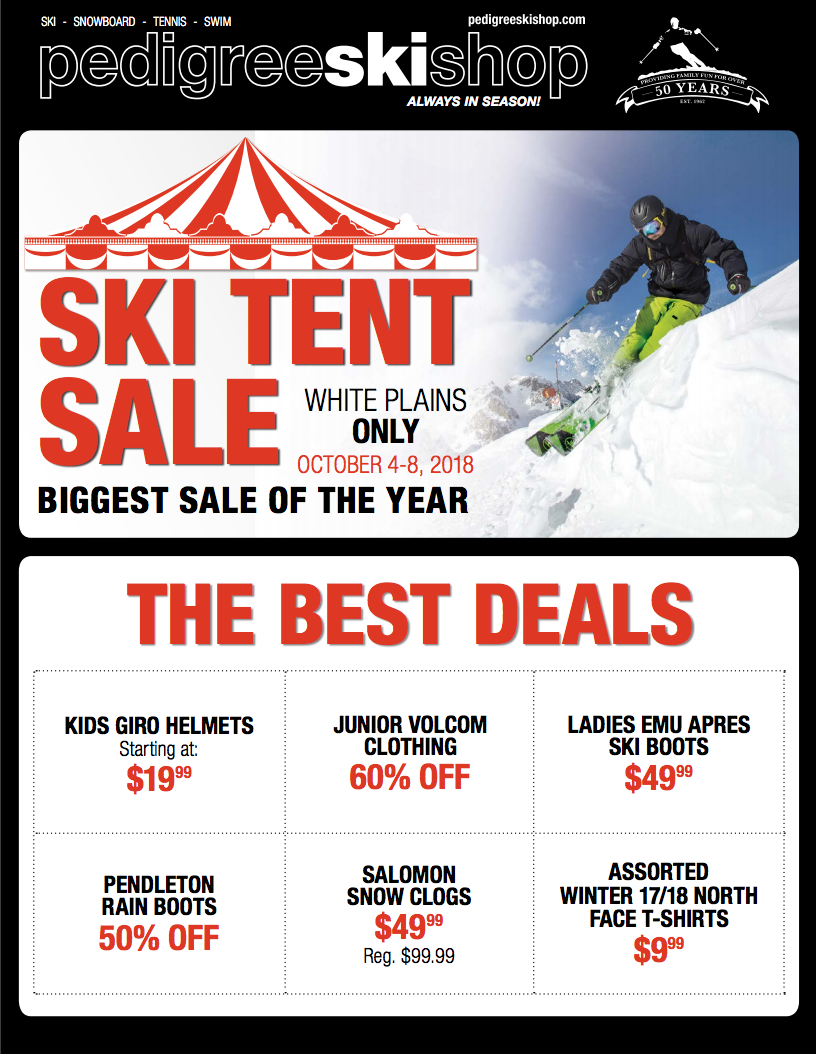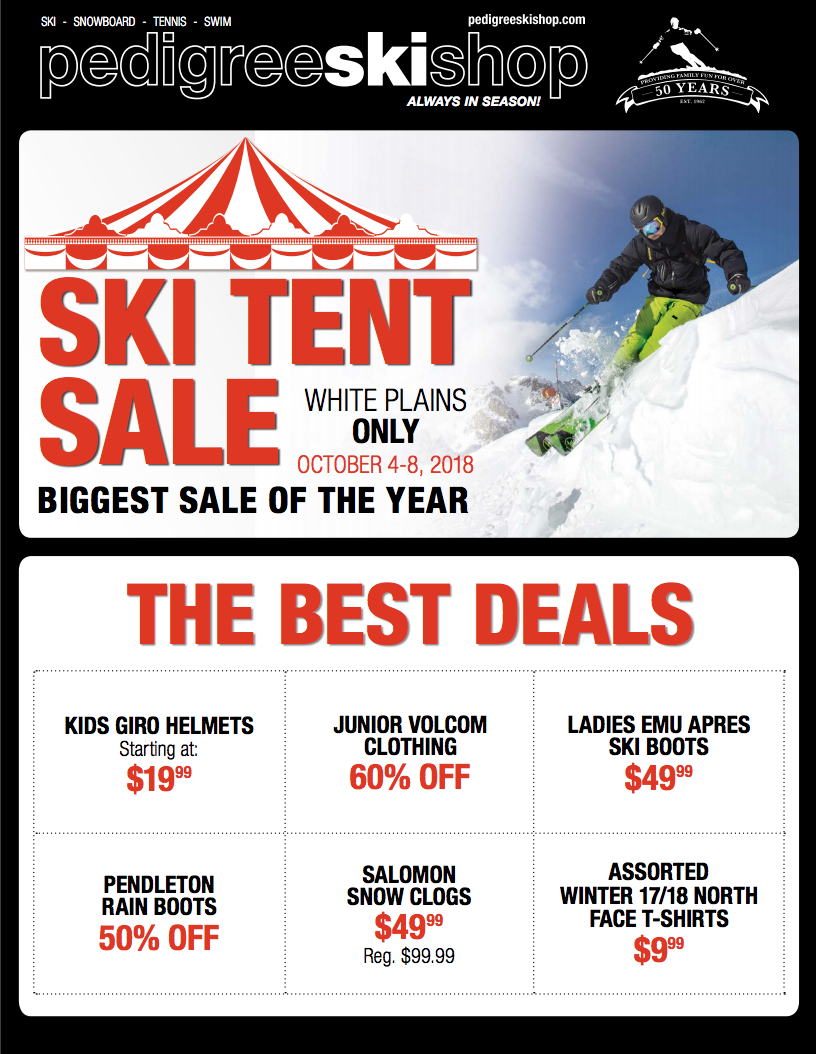 About Pedigree Ski Shop:  If anyone were to ask what has been the secret to the long lasting success of Pedigree Ski Shop, the answer would be "a family mentality".   In 1962, Pedigree Ski Shop was born out of the dreams and inspirations of John Fuerst and his wife, Jay, to turn their beloved sport of skiing into a profession. Now, more than 50 years later, their five children have continued to raise this store into what has become the best shop carrying skis, snowboards, tennis gear, swim gear, and skateboards. In fact, Pedigree has become so successful that it has grown into 4 equally outstanding stores.