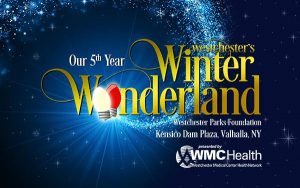 November 21, 2018
In
Play
Westchester's Winter Wonderland
If you're looking for a fun family day in Westchester, check out the Winter Wonderland at Kensico Dam Plaza in Valhalla.   In it's fifth year, they have added lots of new things for this season.    I'm guilty of always thinking the only holiday fun is in the city;  but promised myself I would check this one out this year.   Great job on this event, Westchester County!   
Here's what you can expect at the Winter Wonderland: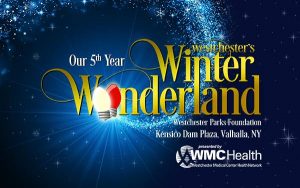 The Winter Wonderland Holiday Circus
Join us each night under the big top. Winter Wonderland Holiday Circus is great fun for all ages.
Show times are:
Weekdays and Sundays – 5:30 p.m., 6:30 p.m., and 7:30 p.m.
Fridays and Saturdays – 5:30 p.m., 6:30 p.m., 7:30 p.m., 8:30 p.m.
Magic Shows
The dining tent is home to the new magic show that everyone can enjoy while warming up and eating food from the food trucks. Schedule: 5:45 p.m., 6:45 p.m., 7:45 p.m.
FUNderland Village
Our new FUNderland Village features 10 rides and four games and a new train ride that circles the light show. You can hop on the Winter Hay Ride as it takes you up close to the base of the Kensico Dam. Your admission price covers unlimited rides.
The Santa Experience
One of our most popular features is the Santa Experience where children and their families have the opportunity to meet Santa himself and take their own photos! The Santa Experience gives children the chance to share their wish list while making a lasting memory of a lifetime. Expect to see surprise guests too!
Outdoor Ice Rink
Your admission price includes unlimited skating (with skates included) on our spectacular outdoor ice rink. Skate against the backdrop of beautiful Kensico Dam Plaza and twinkling lights all around. Lace up and enjoy one of Westchester's only outdoor ice skating rinks.
Musical Light Show
Bigger and brighter LED lights magically light up illuminate the night, choreographed to favorite holiday music. Walk or take a train ride around the triangle to get the full experience!
Family New Year's Eve Party
Join the celebration on Monday, December 31. The gates open at 5 p.m. Pyrotechnic show and ball drop starts at 7 p.m.
Your pay-one-price admission of $20 includes unlimited visits with Santa, skating, Holiday Circus, FUNderland Village, our spectacular light show and more.  Buy dinner or a snack, a warm beverage at a selection of food trucks and vendors, and warm up in the Holiday Spirits warming tent.  Parking is free.