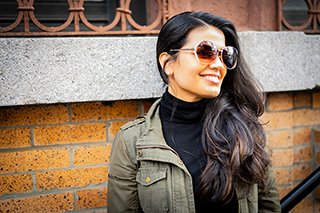 Westchester Woman Wednesday: Meet Sheila Rodriguez
I met Sheila a couple of months ago at a Westchester Blogger Babes event hosted by Bloomingdales. Sheila goes by Shey (pronounced "Shay") and has a beauty blog, Glam By Shey. She shares fashion and beauty tips & products with her readers.
Her outfit choices are unique and when I asked her about it, she taught me a new term: Garconne style (which is French for tomboy) and it's characterized by mixing masculine and feminine pieces to create a look. She does it well as you can see in her photos below.
Shey was happy to share her top five beauty tips with us. Many of these tips have already been shared on her blog or in a video format on YouTube. I've taken the links and included them below so you can access them quickly and easily. From this point on, I've kept Shey's "voice" so as not to rewrite her tips. She does a great job of sharing them so here's what she has to say:
Shey's Top 5 Beauty Tips:
Lash extensions are great for any time of the year really, but in the summertime, they are a must-have. Summer days are meant to enjoy and not worry about wearing waterproof mascara at the beach or pool with lash extensions you won't need to. Lash extensions also make your makeup routine easier because you feel glammed up by having them. All you to need in the morning is some tinted moisturizer, bronzer, lipstick and you are out the door, feeling glam. If you never had lash extensions and want to know more, click the video to see my amazing experience at Iconic Lash Lounge, the best in Westchester!
2. In the summer we are out in the sun a lot so sunscreen is a must! I really like the sun-defying sunscreen oil with SPF 50 by Supergroup because it's nothing like I have ever used before. I like how shiny it makes my legs and arms look when I am at the beach or pool. Even though it's an oil, it's not greasy. It has meadow seed oil which is rich in fatty acids and tocopherols. These ingredients help prevent moisture loss and leave skin soft and supple. I use it on my body only. For my face, I use their Everyday Sunscreen with SPF 50 which does not feel like sunscreen at all and works well under makeup!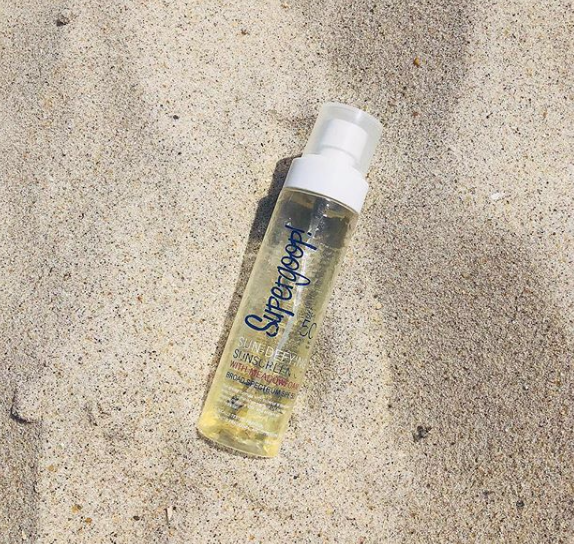 3. Speaking of being in the sun a lot, if you don't want to be in the sun but still want a tan or a sun-kissed look. Or maybe you are going somewhere tropical and want to have a base tan before going, then a spray tan is a must! I would suggest Tropea tans, which is a custom airbrush spray tanning service in Westchester. They use only a vegan and chemical free solution, so it's perfect if you have sensitive skin. If you want to find out more check out the YouTube video I created with helpful tips to prepare before and after the spray tan.
4. Taking care of your skin is so important, especially during the summer months when we tend to wash our face more. My favorite cleanser that I have been using for over 4 years, is Simple foaming cleanser. I have combination to oily skin so I love how it makes my skin feel clean without feeling dry. Simple products are made without dyes, perfumes, or harsh chemicals that can upset the skin. You can buy it at your local drug store for under 10 bucks!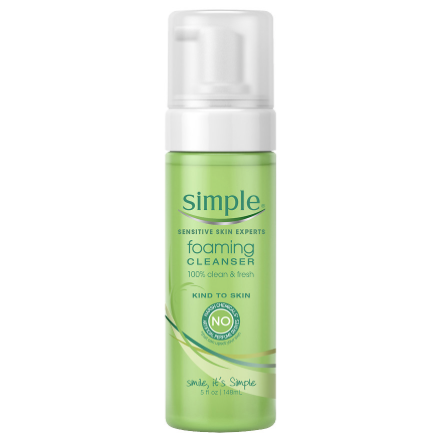 5. My last summer must-have is a summer haircut that works with your hair natural texture, especially if you have curly or wavy hair. In the summertime, I try not to blow dry my hair because with the heat the last thing I want to do is blow hot hair on myself with a blow dryer lol. Vaza hair salon in Ossining specializes in curly cuts. I had my hair cut there before and really liked how my hair looked whenever I air dried it. The salon also shows you how to properly care and style your natural waves or curls! Vaza Hair Salon is listed on my list of the "Top 5 Beauty Salons in Westchester" blog post found below.
You can follow Shey online at http://www.glambyshey.com on YouTube or on Instagram at @glambyshey