Westchester Woman Wednesday: Meet Sue Wald
[envira-gallery id="9302″]
I met Sue Wald about 5 years ago when she was the General Manager at Westchester's only Athleta Store. She was the first person to introduce me to skinny jeans. I will never forget it. I was trying on clothes and she brought me a pair of skinny jeans to try on. My thought was, "Is she aware that I am NOT skinny?" I explained that I didn't own a pair of skinny jeans and she encouraged me to try them on. "Trust me," she said and nodded as she handed them to me. Five minutes later, I was buying my first pair of skinny jeans and super happy about it, as I probably would never have attempted them otherwise! (I now have a few pairs and highly recommend the Sculptek jeans to everyone)
Her role has changed and she's now the Community/Experience Leader, which allows her to provide a calendar of free in-store events that promote a healthy lifestyle and an environment that supports and empowers girls and women to reach their full potential.
This is done in a number of ways:
The store has a full schedule of FREE fitness classes; yoga, pilates, dance, zumba, kickboxing, boot camps and more. Yes, free.
Athleta hosts "moms night out" events with authors to promote their books and hold discussions. (A great one is coming up on 9/26– see below for info on that!)
Medical professionnals and specialists from local hospitals speak in the store, addressing key health issues, often related to women.
Athleta (along with staff members) is committed to supporting community organizations and the team volunteers their time with local PTAs, clothing drives and organizations that help those in need, right here in Westchester.
Entrepreneurs and small business owners are invited to come in to the store to meet and greet Athleta shoppers. Everyone from skincare consultants to jewelry vendors to bloggers. Vendors enrich the shopping experience and it's a nice way to help female businesswomen reach a new audience.
In her 8 years at this store, she's had the opportunity to work with partners in the community, to create so much more than just a shopping experience. To name a few: Gilda's Club, White Plains Hospital, Feeding Westchester, Big Brothers Big Sisters, Stitch and Sews for Soul Ryeders, Eastchester Community Action Partnership. Sue Wald truly lives the Athleta mantra day in and day out.
" At Athleta, our mission is to ignite a community of active, healthy, confident women and girls, who empower each other to reach their limitless potential. We believe alone we are strong, but united we thrive; bringing this to life through the Power of She campaign. "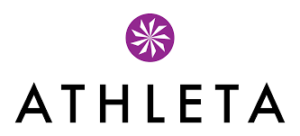 Upcoming Events at Athleta Scarsdale:
"Mommy Burnout" Mom's Night Out Event!
Thursday 9/26
6:00 pm – 7:00 pm
Register here:  http://events.athleta.com/mommyburnoutmomsnightout
Calling all moms, this one's for YOU!
Join Dr. Sheryl Ziegler, Psy.D, author of "Mommy Burnout", for a fun evening of connection, discussion and NO KIDS!
Sip on FitVine wine, snack on indulgent treats made by Posh Chocolates and of course SHOPPING!
We will raffle off a copy of Dr. Ziegler's book as well as a $25 Athleta Shop Card!
Register today and bring a friend for this fun, kid free, evening!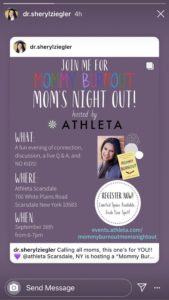 Let Failure Fuel You – Athleta G!RL Interactive Wkshp
Thursday 9/12
6:00 pm – 7:00 pm
Register here:  http://events.athleta.com/letfailurefuelyouathletagrlint
This amazing event is for G!RLS ages 8-12 who are looking to re-define what failure means!
You will take part in a fun interactive workshop led by the ladies of My Remarkable Self as well as one of the co-authors of the NY Times Best seller "The Confidence Code for GIRLS"!!
This is a chance to help make history and begin changing how G!RLS like you feel, react and grow from failure!
We will be raffling off a copy of "The Confidence Code for Girls" and a $25 Athleta Shop Card!!
After this amazing workshop, stay for a special shopping party just for YOU to shop the latest Athleta G!RL collection with a special shopping discount for everyone!!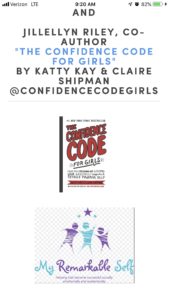 MORE SEPTEMBER EVENTS
Follow this link to see what'a happening during the month of September!  https://stores.athleta.net/store-4792/
Yoga classes, vendors and more!    My shopping event will be on Thursday 9/12 from 4-8pm and Friday 9/13 from 4-8pm.    See you then!