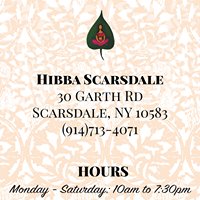 Hibba Scarsdale: New Client Specials
I recently learned about a new spa in Scarsdale. Hibba has a few locations in Manhattan and is happy to have her first Westchester spa, located at 30 Garth Road. Hibba (she's the owner) and she does it all; from brow tinting/shaping, to eyebrow threading to microblading. She does facials and hair removal as well.
They also do "sugaring." In my many years of trying beauty services, I had never heard of it. I looked it up (on YouTube of course) and learned that it's a gentler procedure than waxing, where the hair is removed with a sugar mixture and far less painful than waxing. (No strips and no heat.)
Here's the video….It's the best way to explain it.
https://www.youtube.com/watch?v=dQbXPihM6iI
As the mom of a teenager, I have noticed that moms vary in which treatment they allow their girls to get–and which part of the body they let them have treated. I'm definitely going to give sugaring a try. A list of services and prices can be found by following the link below. In addition, there are some seasonal specials going on right now. .
https://hibba-nyc.myshopify.com/