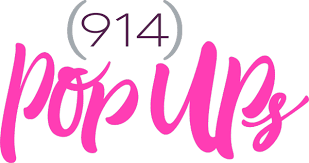 914PopUps Westchester Warehouse Sale: March 8th
***Original Posting, March 7, 2019.  Reposting February 2020 to include 914PopUps March 8th Event.***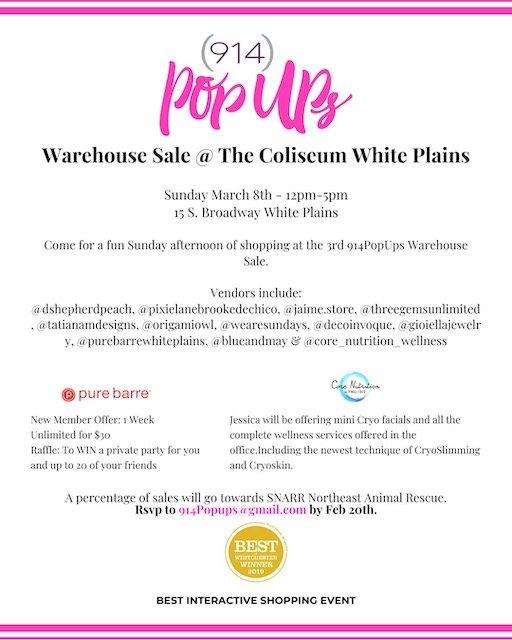 Save the Date for a sale that you won't want to miss.  On March 8th, 914PopUps is hosting a Westchester Warehouse Sale at The Coliseum in White Plains. Like any other event that 914PopUps puts on, it *will* be incredible. 914PopUps is a retail concept that brings vendors and shoppers together.  Think: Indoor Sidewalk Sale.  If you've never been to one of these events, here's what to expect:
The location will be fantastic.  In the past, their events have been held at BLVD in Scarsdale, LifeTime Fitness in White Plains and Chelsea Piers in Stamford.   The venue is always a draw, as it gives something new and different to the guest.  At BLVD, it's complimentary beauty services and the other facilities offer shoppers a free day pass to try out the facility, so there's that added value that makes it appealing.  The Coliseum is a beautiful facility for this event.  If nothing else, it's a perfect time to see the inside and keep it in mind for your future events.
The vendors are always new and different.   We've all been to the school and church fundraisers and while they are good events, the vendors tend to be run-of-the-mill, a little on the functional side, a little more mainstream.  Somehow, these events are carefully curated to bring a richer, higher quality vendor to their shoppers; some that we might not already be familiar with.  Before the past events, I had not known about Fado in Katonah or Quatre Filles in White Plains.  I love their "finds" and enjoy the regulars that I already know and love;  LOLA, Laurie Berg and Three Gems Unlimited.   
There is usually a charity component.  Melissa believes in giving back, allowing their shoppers the opportunity to participate in something larger–  The last event supported the Tennis Foundation in Ghana. This event will support SNARR Animal Rescue.
There's food.   And it's good food. Always. Melissa finds new Westchester-based restaurants and food vendors to share with their audience.  It's a win-win, as we're all happy to learn about a new restaurant in the area.
There are unique experiences.   Sometimes, there are speakers or wellness coaches.  You *will* learn something new.  You will find out about a beauty treatment that women are fussing over.  This year, the guests will be able to try mini CryoFacials. You will meet someone new and find a new business to follow on Instagram!
 It's a feel-good (guilt-free) Moms Day Out.   It's more than martinis and manicures. You can get a few friends together for something other than dinner and drinks.  You leave feeling great, looking great, having supported local, mostly women-owned, Westchester- businesses right here in your own community.
Hope to see you there!