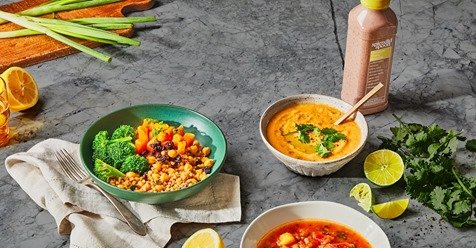 Splendid Spoon: Smoothies, Bowls & Soups Delivered Weekly
My husband decided to eliminate meat from his diet about 4 or 5 months ago. It's been a tricky situation with dinnertime, having to come up with an alternate meal for him. I looked into the meal kits but for a one-time dinner, they were a lot of work and more expensive than I would like.
I was happy to find Splendid Spoon so I could have prepared meals, with quality ingredients ready to go. Each week I order 5 smoothies and 5 bowls– The bowls can be soup or grain/protein bowls. (pictured above….a grain bowl and a broccoli soup.). They are delivered weekly, frozen and I have a meal ready for him that doesn't cost a fortune.
You can use my referral code to save $25 off your first order. It's under $100 a week and involves NO cooking! 
https://splendidspoon.com/common/refer/1627aa85-31b4-4b74-a67c-698bb894781a/