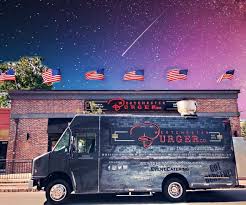 Communities Dining Together While Staying Apart
There is nothing I love more than a great story, especially when it involves women working with other women to support the businesses in their community.  In this time of serious crisis and uncertainty, it's the little things that get us through. While restaurants are closed and struggling, people try to support them by ordering take out or delivery, but sometimes that isn't even enough.  A local restaurant owner told me this week that he barely covers his expenses on his best night.  He's happy to keep his guys working and he's happy to continue feeding his regulars, but it's a struggle. I'm making sure to check in weekly with my local favorites and at the end of a long day at home, my kids are happy to have a taste of our family favorites as a small reminder of our live pre-virus.
The other night, a friend texted me and mentioned Westchester Burger Co. in White Plains and more recently on Garth Road in Scarsdale.  Her texts were short and choppy so I called to find out what she was talking about.   I learned that Westchester Burger has a food truck– and rather than delivering to random addresses on a given night, they are taking one neighborhood at a time, to get fresh meals to families quickly and at a great price.  I had no idea they even had a food truck.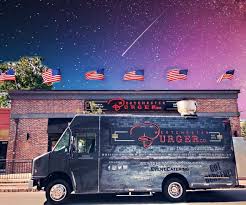 So here's how it happened…..Totally naturally and organically…..Carissa Fales who lives in the West Harrison/Purchase area organized Westchester Burger and Longford's for her neighborhood, the way others have done in their area.  It helps the neighbors to "stay home" and it helps the businesses "stay open", so it's a win-win.   Carissa's idea inspired a friend, Valerie Phillips in the Edgewood Section of Scarsdale to get his going in her neighborhood this past week.  When Melissa Tomlin heard about it, she called Michelle at Westchester Burger and secured a date for her neighbors in White Plains on 4/9.  Once I heard about it from Melissa, I jumped on board and got it set up for my area in the North End of Eastchester, specifically Wimont Manor & Green Knolls on 4/13.  Within minutes of my post on Instagram, a friend asked for the contact info– and now Michele O'Neil is doing this in the Sutton Manor section of New Rochelle. Who knows how many others will follow and organize this in their towns and villages!   If you do, please let me know– as I would love to see how this catches on….and connect all the dots.   As we all know, it's a small world in Westchester and I would love to feature all of the Westchester women who are organizing and helping.  <3
Here's how it works, you get on their calendar and you spread the word in your neighborhood. NO congregating, NO cash handling. Place your order and pay using Venmo. Food is cooked on the truck and delivered you to immediately. Here's the menu. Perfect pricing for families and menu is nice and simple. They operate with only 3 people working on the truck, with masks for when they deliver. They will even play music for anyone with a special occasion, like a kids birthday. They've thought if everything.  Reach out to Michelle at Westchester Burger to get on their calendar– 914-255-0255, by text– get a date and start spreading the word in your neighborhood.  Let's see how many Westchester Communities we can get to dine together, while apart.  
EDITED:  April 4th, 2020
Some more information just in…..  Adding a little "extra" to your delivery, partnership with Wolf & Warrior in White Plains–and the best news is that Westchester Burger is sending 10% of proceeds which is likely the greatest organization to support in Westchester right now.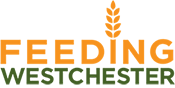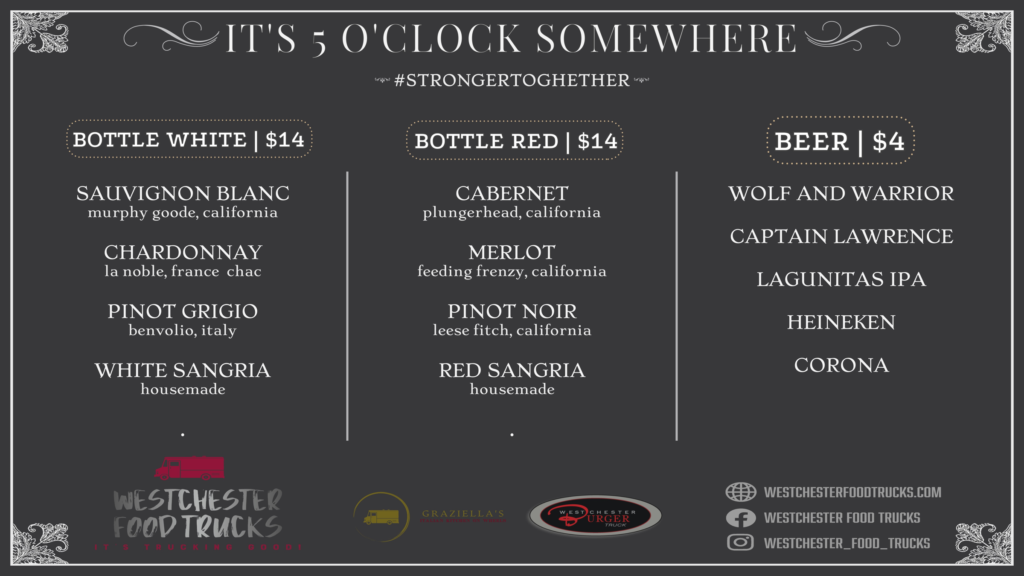 How to Order:
Westchester burger/Graziella's Italian kitchen in wheels. Neighborhood delivery.
*no contact
*no window orders
*three people in truck , masks and gloves plus delivery driver.
*electronic payment , Venmo or cash left on door.
* NOW DONATING 10% of sales to "FEEDING WESTCHESTER "
Each of you will be given the slot you requested.  One hour delivery window based upon the timing of the event. For example 4-5, 5-6, 6-7,
please text Michelle DiFeo by NO LATER THAN ‪1PM ON ‬Day of the event, at ‪914-255-0255‬ the following information:
(1) Your name and delivery address.
(2) That your order is part of the "name of community"
(3) Your selected time slot
(4) Your order (and, for any burgers that will be delivered  hot, please note the preferred temperature – rare, medium, well-done, etc.)
Michelle will respond giving you the total. Then you will need to Venmo payment to her husband at @Angelo-DiFeo.  In the note section of your Venmo payment, please indicate community and your street address.  If you wish to leave a tip for the delivery team, please note +x in tip and add that to your total when you make payment.  Your food will be delivered to your home.