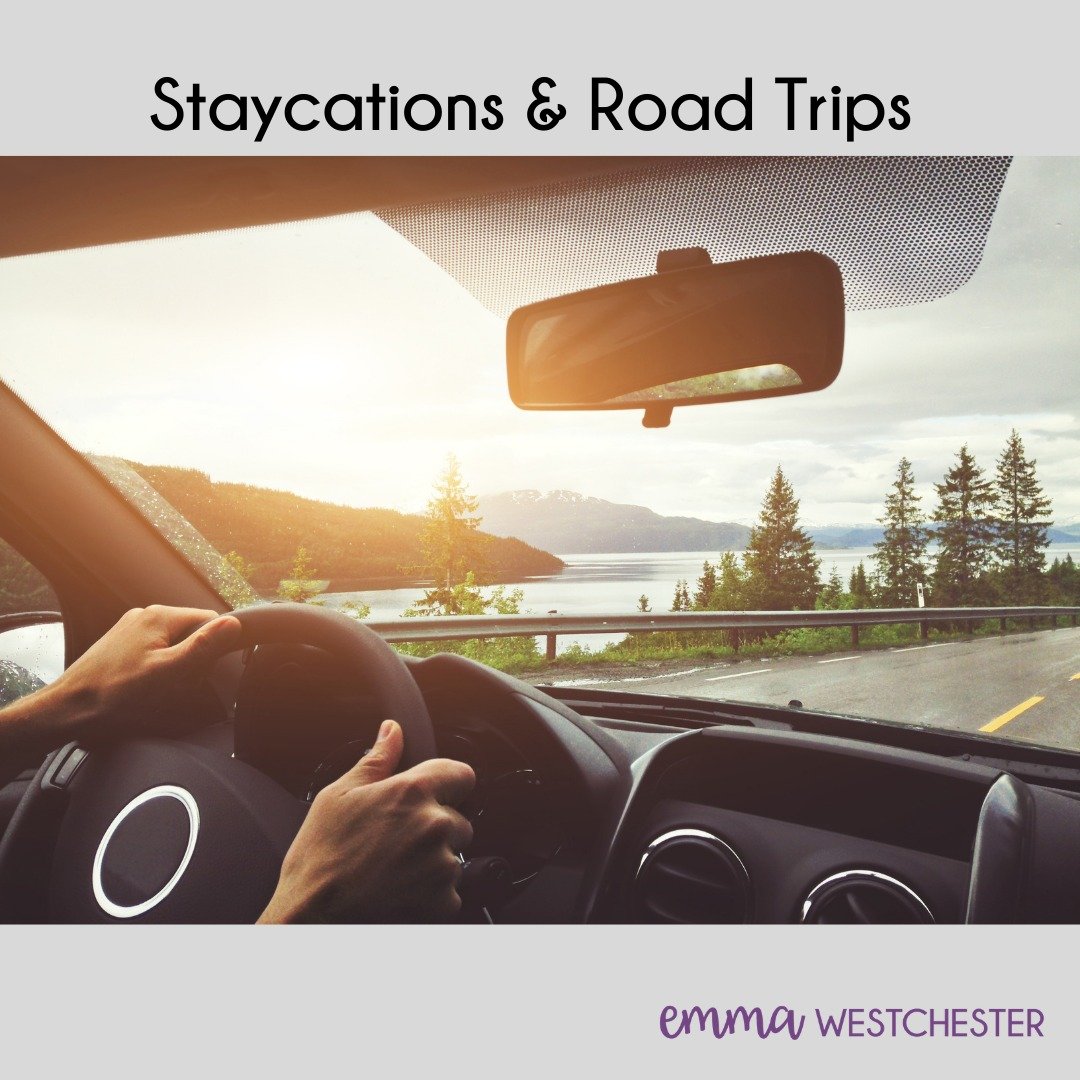 Staycations + Day Trips in NY/NJ and PA
Summer 2020 wasn't a total loss. Our usual family travels did not take place but we found lots of local alternatives. Fortunately (and unfortunately) we live in a state that has lots of rules restrictions in regard to travel. I figured we'd be best sticking with NY NJ and PA locations, since places like Delaware, Maryland and Rhode Island were off and on the quarantine list. We found some great spots within a two or three-hour radius and made the most of Summer 2020.
First was a day trip to Governors Island.  We boarded the ferry from lower Manhattan at 10 AM and boarded the same ferry back around 4 PM. I had been over to the island two summers ago to visit the Collective Retreats glamping site. (Link to that article here.) Governor's Island is rich with history, is very clean and spread out. Blazing Saddles has bike rentals available and even surrey rentals as you'd see in beach towns.  We enjoyed views of Brooklyn, New Jersey, the Statue of Liberty and lower Manhattan. There are no cars allowed on the island so biking with the kids is very easy. There were lots of stopping

points

and a few eateries. It's probably a good spot even in the fall months.  Recommend buying ferry tickets in advance online.
The first of our weekend getaways was to the Wave Resort in Long Branch, New Jersey. It set the standard very high as it was likely the best of the three trips we took. It's brand-new and beautifully decorated with a gorgeous pool area! The hotel has a variety of dining options for hotel guests, including a great room service menu. The Wave Resort has staff on the beach who will set up your chairs, towels and umbrellas which is all included in the price of your stay. I don't mind paying more for services like this, especially if it means I don't have to pack all the extra stuff.  While it is along a boardwalk it is not like your average beach town. The boardwalk is not lively or happening.  Pier Village has a handful of nice restaurants (Playa Bowls too) and a few cute shops.  Avenue Le Club was an incredible dining experience and my daughter and I loved shopping at Molly and Zoey.  Overall, we enjoyed the peace and quiet of Long Branch. With very small children, a family might like a full boardwalk with rides and games for the kids. Not me. Happy to be in a more adult setting with mine who are 10 and 14.
Our second weekend getaway was to the city of Philadelphia. Each year we take our kids to a new city. With the restrictions in place, we were limited. Since we'd never been to Philly as a family, this became our 2020 city.  Lots of historical things were closed this summer, but we were able to visit the Franklin Institute, which has the Presidential Wax Museum exhibit by Madame Tussauds (open until Jan 3, 2021) the One Liberty Observation Deck (now closed temporarily), Reading Terminal Market, Love Park & more. Most of all, we enjoyed the food.  We ate Philly cheesesteaks (twice actually!) and my daughter found the best breakfast spot ever on Instagram.  It's called Green Eggs Cafe and they have a fantastic breakfast/brunch menu which includes red velvet pancakes!  There are three locations in the city.  I swear I'd go back to Philly just for the food!  We went to Geno's (not Pat's) but it seems they both do OK. The two are directly across the street from each other and people seem to have a favorite.  We loved Geno's!
Our third and final jaunt was to Hershey, PA. I am not a theme park goer, thrill ride seeker and I make it through Disney trips for my kids so I wasn't expecting much.  When I told my teenaged daughter that we were going, her first response was:  "Mom. Are you sure?"  Well, I was pleasantly surprised and might even say that I enjoyed Hershey. HersheyPark was manageable and cute, complete with a Chick-Fil-A in the park. The Hershey Hotel was absolutely beautiful.  Because of COVID, we chose not to stay in the main hotel (too congested) and stayed in a private cottage (called Woodside Cottages) which was perfectly private and quiet, with a little nature out our back door. Food was mostly room service, which was fine because the food was excellent. They even delivered bottles of wine without an insane markup. Desserts were amazing, as you'd expect. The outlet shopping mall nearby was an added bonus. We scheduled a stop on the ride home (about midway for us) to go ATV riding at a place called Alvin's Offroad Playground. My 14-year-old was able to ride with no experience and my 10-year-old was able to be a passenger. It was $85 for an hour ride and the trails were surprisingly good.  Alvin's is very close to Camelback and Kalahari if you're ever in that area and want to add a fun activity to your plans.