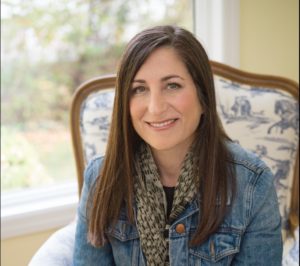 Westchester Woman Wednesday: Meet Stephanie Newman
Since October is National Bullying Prevention Month, I figured it would be the perfect time to address this very important topic as it relates to moms.  The topic of bullying is not new to anyone so I don't expect that I am sharing anything you haven't already heard about or worse, lived through as a kid or as a parent.  I discovered Dr. Stephanie Newman's book "Barbarians at the PTA" in Bronx River Books in the Scarsdale Village this summer. I started reading it and followed her on social media, later realizing we were practically neighbors, with a lot of mutual friends.  I had so many questions; so when she suggested meeting for coffee one day, I decided to bring them along and ask them for a Q&A story, below.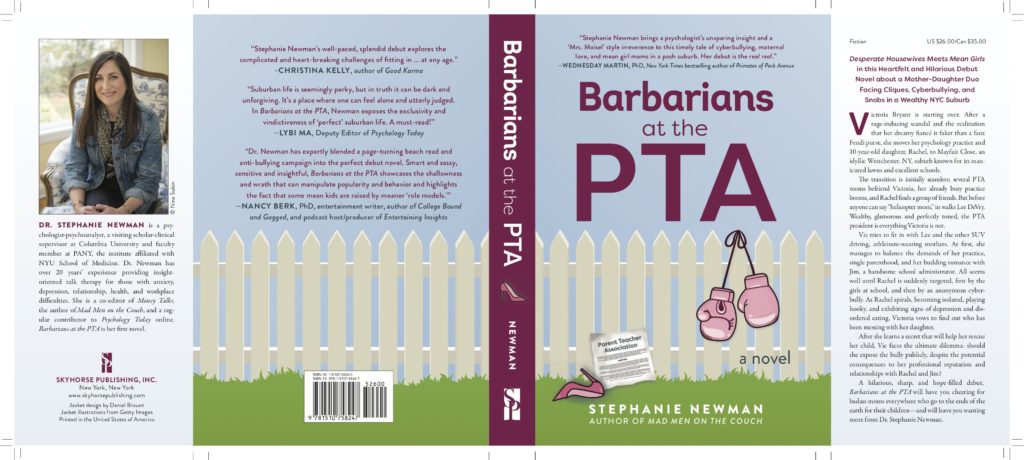 The book has been described as a cross between Desperate Housewives and Mean Girls.  It's the kind of story that is a little too relatable for readers who live in small, close-knit towns, with over-involved parents, where moms are often the mean ones. Check out this article from 2015: "Moms May Be the Real Mean Girls."
Q. The first thing I have to ask about is the title! Why did you choose to title this book "Barbarians at the PTA"?
A. I had originally wanted to call the novel "Bully Moms." There are soccer moms, PTA moms, and so it seemed, bully moms, but the advice I got—and wondering if you and your readers agree—was that this title sounded like the book would be non-fiction. So I thought I would use the PTA reference to signal to people that this was going to be a story about parents and sandbox wars. And for anyone who is wondering, I have enormous respect for PTA moms (and dads) and appreciate the work they do. I have spent years volunteering! I just used PTA as a signpost – I figured people would know exactly what the book was going to be about if I referenced a parent volunteer organization in the title.
Q.  Is mom-bullying a real thing?  For you to have written a book on this very subject, it sounds like it is.
A.  It is real. But before I elaborate, an important caveat: This isn't a tell-all—It's fiction, meaning it's all made up. And I never write about patients. Treatment is sacred and anything that happens in the consulting room is confidential.
But I will tell you that as a psychologist, a teacher of and supervisor of psychotherapy at a local graduate program, a mom, a resident of Westchester, and a citizen of the world (quoting Angelina Jolie here!) I became aware that there was a common theme: moms (and dads) who were over-involved and using their power to socially engineer in ways that were harmful to kids. I heard it from people I was teaching—they were studying to be therapists and presenting cases to me—I heard it from friends in different states around the country, from neighbors who were sitting at my kitchen table crying over a cup of coffee. Once I heard the same thing over and over I thought maybe I could start a conversation about how some parents act and the collateral damage that results in innocent and unsuspecting kids. I was hoping a discussion about this could help people who were going through this and felt alone or ashamed.
Q.  What are the signs that your child might be a victim of bullying?  Does it present differently in boys and girls?  Please compare what a parent would see in an elementary school-aged child vs. middle school/tweens and teens?
A. Generalization, but boys are generally more physical. Think knocking the lunch tray out of someone's hands or bumping too hard into another kid. With girls, it's usually about exclusion. And social media magnifies every incident and makes them more acute, even more painful for those who are targeted.
Signs to watch out for: Changes in behavior including difficulty sleeping, changes in eating habits, a 180 in terms of mood or appearance or a big (or sudden) shift in friend groups. A kid who had been content or chill begins lashing out.
Q. What if your child IS the bully? No one likes to talk about that, but the bully has a mom too!  
I am glad you asked this question! People often bully out of some kind of insecurity. I always ask in session about what is going on at home. Parents have problems in their relationships and careers, deal with financial difficulties, divorce, illness, and all of the foregoing can affect adolescents (and younger kids) and can cause kids who feel vulnerable, alone, or scared to display aggressive behaviors. Social aggression and micro-aggressions like name-calling or more subtly, freezing people out or ignoring, or leaving them out, are all forms of bullying.  The aggressor often engages in such behaviors as an attempt to deal with his or her or their own vulnerabilities or fears.
Q. As a clinical psychologist what's the best advice you can give to a mom when their child is a victim of bullying?  What can moms do to help their children during a time of crisis?  I'd love some actual tips that moms can use.
If kids need to form cliques and exclude it says more about them than about you!  Moms (and dads) should lead with empathy. Listen. Let your child, preteen or adolescent talk. Don't try to persuade them that they shouldn't react or everything is fine. Give them room for their feelings.
It's hard to know how involved to get. If your child is spiraling from rejection, isolation or stress, and you are concerned about their emotional safety or well-being, it might be the time to go to school and let the teacher know. But if it's not an acute or dangerous situation, it's usually better to let the adolescent solve their own problems. Take your child's pulse. Can they handle it?  What do they propose to do?
Help your child label and identify feelings (such as rejection, sadness, loneliness, anger) and then problem solve. Think through possible solutions together. Left out of the clique and feeling Isolated? Try to reach out to others who aren't in the group. Cast a wide net. Have your child Be proactive about making social plans. Let them learn to experience and tolerate their feelings and then help them think through strategies to address the bullying. Perhaps they want to stop the behavior by confronting the bully, or maybe they want to lay low and figure out ways not to engage with the bully. Let children try to solve this for themselves. Step in only if it devolves. Remember, hurt and disappointment is inevitable where your child is concerned. It's what you do with it that's important.
And a final thought on this: As parents, we tend to underestimate our influence. Kids are always watching us, and it's our job to model desirable behaviors. If you give someone the finger for cutting you off at the intersection, chances are your kid will do that too.  It isn't easy but I try to think about how I might come across before immediately acting or reacting. Mindfulness exercises help understand your mind and allow you to slow down, lean into to really difficult feelings, embrace them and then ultimately let them go or take steps to move on. There are many free apps teaching this technique. Anyone can do it.
Q.  Can you recommend some additional reading material for parents?  Maybe podcasts, parenting websites, books. 
A classic book on this topic is Rosalind Wiseman's "Queen Bees and Wannabees."   The movie "Mean Girls" is another great one on the topic too.
Some websites that people can consult for info about bullying, including conferences, initiatives, research:
Q. Will you continue to write novels?  Similar to this one, for moms?
I had a blast writing and editing. It was a long road to completion—the path to publication was epic. At the rate I am going I will be at the assisted living asking other residents to read the draft of my second novel.
Q. I ask everyone this question:  Where do you like to eat, shop and play in Westchester?
The Scarsdale Village is a great place to grab a bite to eat. I like Parkway Cafe, Moscato, Metro Diner and Alaia.  Bronxville is bustling and has everything.  To me, it's like a mini NYC. Rosie's Bistro is an all-time favorite. Chat and Encore Bistro in Larchmont are always good too.  Long Island Bagels in Hartsdale is a great new addition, a perfect place to grab breakfast or lunch. And I don't want to forget Dante's in Hartsdale. Hands down a huge fan favorite. I feel like I am in Italy whenever I step inside.
Of course, I love our indie bookstores in Westchester.  Such wonderful experiences with all of them as a shopper, a reader and now an author.  I have enjoyed Bronx River Books in Scarsdale, Womrath's in Bronxville, Anderson's in Larchmont and Scattered Books in Chappaqua.  Outside of book stores, I am a sucker for The Westchester.  I love the big shoe sale at Nordstrom or browsing at Neiman's.
I love the area near the water over in Hastings; the benches by the tennis courts near Harvest, those views of the cliffs in Rockland. The seagulls, water and open sky—all gorgeous.  Manor Park in Larchmont is beautiful too. The reservoir near Chappaqua is breathtaking.
I've never done a proper interview like this one, but felt like this would be a good start; with a kind and forgiving psychologist turned writer!  A big thanks to Stephanie for taking the spot of Westchester Woman Wednesday this month.  Love when things fall into place like this.
Barbarians at the PTA is available in local bookstores but online as well.  Reviews are available here (click on links) and finally, if you're a podcast lover, check out Word of Mom Radio….I had never heard of it until now.  Stephanie talks about the book and more here.  Another podcast recommendation is Satellite Sisters. 
You can find out more about Dr. Stephanie Newman and her practice here.  You can also read her piece on Pandemic Parenting for Scary Mommy below.