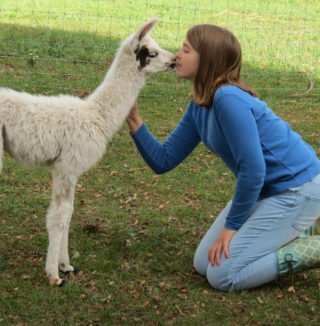 Hike with Llamas at Clover Brooke Farm
If you're looking for unique outdoor experiences, look no further.  Clover Brooke Farm has a few of them.  They are outdoors and socially distant.   A group of Westchester women went up a couple of weeks ago and I had planned on going this past weekend with my family of four.  Weather derailed our plans and we were lucky to get back on the schedule for 10/24 before these fun activities close up for the winter.
Check out some pics of my friends on a hike alongside some llamas and alpacas!  [envira-gallery id="9958″] In addition to these hikes, are small animal petting zoos and yoga classes.  All of this fun is only 75 minutes from White Plains.  The website and contact info can be found below.
Come to Clover Brooke Farm to meet some of the most personable and charismatic llamas and alpacas in The Hudson Valley. This unique outdoor adventure is gaining in popularity and has been quoted " The Best Day Ever"…by many of our visitors. Your visit will begin with a brief tour of our farm and introductions to some of our smaller friends (i.e. Pygoras goats, Sheep and overly friendly Barn Cats ) with a short story of our 1850 homestead located in The Historic Hudson Valley on 25 bucolic acres .

We will guide your Llama/Alpaca hike through gentle pastures, paddocks, past a stocked Bass pond and encourage Llama/Alpaca Selfies along the way. The hike is a mile on groomed and maintained trails. We hope to leave you a few minutes at the end to stop by the Farm Store and find a special farm memento.

*This Experience is for participants 8 years and older and each visitor must purchase a ticket in advance prior to arriving at the farm. Any participants under the age of 16 years old, must be accompanied by an Adult with a purchased ticket for the Hike. Those without a ticket, are not allowed to follow along or join us for the Hike.
Book Your Experiences Here: https://app.squarespacescheduling.com/schedule.php?owner=19511699
1 hour 30 minutes
@
$43.00
Join us for an adventurous experience at Clover Brooke Farm -175 Ruskey Lane, Hyde Park, NY and reconnect with a quieter side of life walking your own llama/alpaca on a 25 bucolic acre country farm in the Historic Hudson Valley, Hyde Park, NY. Your guided Llama/Alpaca hike will take your through gentle pastures, stocked bass pond, scenic vistas and established hop field, leaving you with a sense of reconnection to nature and animals.
We provide an opportunity for hands-on experiences with a variety of our friendly animals. This activity is designed for participants to learn, bridge friendships and practice kindness with our farm animals. You will spend one hour with some of our common (or not so common) domestic animals like bunnies, llama or alpaca, chicken, sheep and goats. Participants will learn how to safely interact with both small and large animals in this closeup and unforgettable experience. Each visitor must purchase a ticket.
Llamaste Yoga and Lavendar Loofahs at the Farm-
Join us for a fun session of Yoga, alongside Clover Brooke Farm's friendly Llamas with Yoga instructor Virginia Bocchicchio. Followed by a hands-on class creating your own Lavender Loofah by Fiber Artist Andrea Parent-Tibbetts.
No worries if you're new to Yoga. We welcome you to experience a session that covers yoga essentials and is geared toward beginners, but all levels are welcome. Blended with this is a 'one of a kind' Lavendar Experience.
Location and Contact Information: 
Clover Brooke Farm, 175 Ruskey Lane, Hyde Park, NY 12538
845 444 6066 office
845 234 8218 cell
Follow us on Facebook, Instagram and Airbnb Experiences
https://www.facebook.com/cloverbrookefarmhydeparkny/
https://www.instagram.com/cloverbrookefarmhydeparkny/
https://www.airbnb.com/experiences/505525
https://www.facebook.com/hydeparkhops/
Contact us at:
https://cloverbrookefarm.com