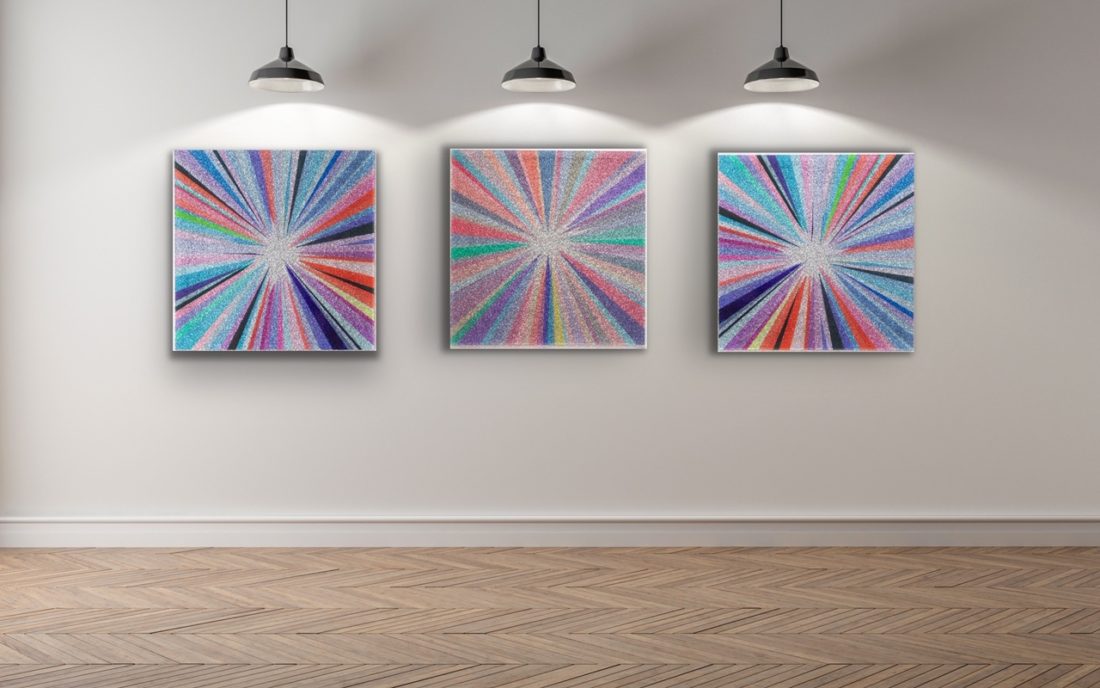 Meet Artist Kim Stadin
You may have seen my social media posts of the most incredible pieces of art by abstract artist Kim Stadin.  I treated myself to an original piece last fall when I converted our spare room to a proper office.  Who knew that COVID would hit and we'd all need it for work and school in 2020. It's sad that no one can really appreciate it other than ourselves, as it's in a room that people don't visit.  It was pricey, but worth the splurge. I don't typically buy original art for my house, so the price tag of around $2,000 was a little more than I would normally spend on home decor; but I had to have it.  If I bought another piece, I would go for her new acrylic pieces, which are less expensive and better for gifting. 
Kim is the artist known for spreading good vibes with her colorful stripe paintings that, well, just make you feel joyous!  The names are adorable:  Over the Rainbow, Pow and BubbleYum to name a few.  This summer she launched a line of stunning acrylic home goods, that are more affordable.  Coasters are $115 and the trays are in three sizes:  Small (12×12) $225, Medium (17×11) $275 and Large (22×14) 350.  The acrylic wall art pieces are also for sale at $500 each. They are 24×24 squares and perfect for any room of the house.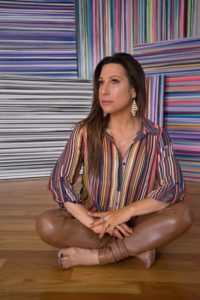 https://www.kimstadin.com/about-american-artist-kim-stadin
"People say my art makes them feel so happy, so why limit my work only to people in the market for original art? Color makes a home and this is the first step to expanding my brand. Everyone's home should have pops of color like this."
Check out Kim's Instagram Page for info on her gorgeous and affordable coasters, serving trays and acrylic wall art from a handful of her favorite colorful pieces. Products are now available on her website kimstadin.com. 
This one is called POW and it's available in three variations.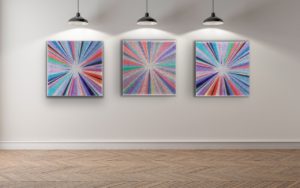 Her turnaround time 2 weeks at most!  Follow Kim on IG to see some of her creations. @kimstadin
[envira-gallery id="10040″]